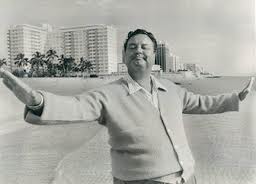 By Danny Allen
Hello NewzBreakers readers from sunny Miami Beach where the temperature was 83 degrees earlier today. Before I get into my column, I want to send my sincere prayers to the many people out there that got hit by Hurricane Sandy and even worse, lost loved ones. Bianca and I hope that each of you gives to the Red Cross, a very worthwhile agency that reaches out and helps the victims.
Well, I had a reader write in that his favorite show was the TV Classic "THE HONEYMOONERS" starring "The Great One" Jackie Gleason as the lovable buffoon Ralph Cramden, who was a bus driver in NYC. Many don't realize this, but "THE HONEYMOONERS" was only on for two seasons (1955 – 1956). The reader wanted to know if I had I ever met Jackie Gleason and if so, did I have any recollections I could share?
People don't realize that since the day it went off, it has been in syndication all over the world, so you can turn it on at any given time. It truly was a classic that leads me to my first meeting with JG as he told me to call him.
My former client and best friend, the late Errol Flynn was shooting a movie opposite Joanna Dru and Peter Finch called "THE DARK AVENGER" back in 1955. As Errol always did, he invited my assistant Misty and I to watch him on the set. I recall, it was close to the last day of shooting and Flynn said, "Moxie Man", I have invited an old chum of mine to meet you." He wouldn't tell me who, but insisted I would piss my pants!
After the crew wrapped up for the day, I could hear loud cheers out of nowhere and low and behold, I turned to see Jackie Gleason doing a soft shoe dance bit for the crew as he came closer to the set to see Errol. "The Great
One" (a nickname given to him by the legendary Director and Actor Orson Welles) yelled, out "hey Flynn, you may own a sword fight, but you can't dance a lick next to me." Flynn fell on the floor literally and when he got up, Gleason gave him a bear hug. As Misty and I stood there laughing our tushies off, Flynn called over for us to meet Jackie. Yes, as Tony Curtis and Kirk Douglas did a few years later, Gleason flirted with Misty who as I said before, could flirt with the best of them. Gleason, said and I recall this vividly, "Misty, with a great ass like that, you have a great future behind you." That even made Flynn, the ultimate ladies man blush, but Misty ate it up!
JG had his limo outside waiting on him to take us all to dinner which we had a riot at. Flynn, JG, Misty and I would talk into the wee hours of the morning exchanging numbers where we would remain in touch for many years. In fact, I remember one of the saddest calls I ever received on October 14, 1959, when I picked up my home phone to hear a grief stricken Jackie Gleason who could only get out, "Moxie Man, I loved Flynn and to think he is gone, I am speechless." Yes, my client and best friend in the world, Errol Flynn had died suddenly on October 14, 1959 at the young age of 50. But in those 50 years, he did a lot of living baby…..
Over the years, I spent many nights with Jackie and his wife Marilyn until his death, on June 24, 1987. My wife Bianca, Misty and I attended Jackie's private funeral service at Cathedral of Saint Mary in Miami. They truly don't make them like JG anymore….