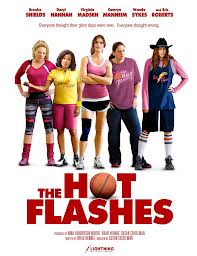 We have just released a trailer for The Hot Flashes, and we encourage you to share it via email or post on your Facebook page. Below is the link.
In the new trailer, you'll hear a snippet from the original Sheryl Crow song that closes the film. We'll announce her involvement later this week, and the song may be released as a single in 2013.
LINK TO TRAILER:
http://vimeo.com/user2184304/thehotflashestrailer
FACEBOOK PAGE:
http://www.facebook.com/TheHotFlashes
As for distribution, we are showing the film for the very first time to potential distributors in Los Angeles this week at the American Film Market.
We will also have a final, humorous public service announcement on the importance of mammograms (Wanda Sykes is very funny in it). Watch our Facebook page for that.
Stand by for more news!