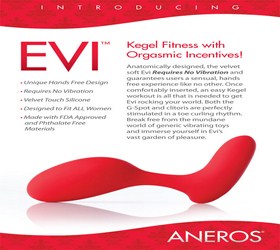 By Misty Emerald
Aneros has developed Evi, a revolutionary hands free Kegel Excerciser with an added benefit. Anatomically designed to strengthen your PC Muscles and restore vaginal elasticity, this is one toy your man will thank you for investing in. Evi is one size fits all and every girl's dream. A satisfying workout in more ways than one, this Kegel Exerciser simultaneously stimulates the G-Spot and clitoris. No buzzing or vibrating and no more runaway Ben Wa Balls.
Velvet touch silicone provides a comfortable, snug fit that conforms to your body for pleasurable sensations. Wear it in the daytime for an effortless Kegel exercise and rock yourself to sleep at night for the ultimate orgasmic experience. Evi is every girl's best friend and your man will be pleased that you found her.
Dual action and double the fun, Evi will have you sweating and truly satisfied when you're done.
Purchase the Aneros' Kegel Exerciser, Evi.