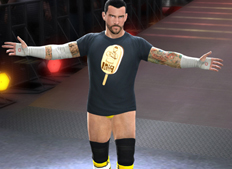 I've got the latest news from THQ and WWE Games, and it's something you're sure to dig: An exclusive video interview with WWE '13 cover superstar CM Punk and WWE Hall of Famer Stone Cold Steve Austin. When the two sat down recently to talk about WWE '13 and the "Attitude Era," WWE Hall of Famer and legendary commentator Jim Ross discovered he was in for more than his original intentions.

While the interview begins simply enough, with each WWE icon speaking about his career and the "Attitude Era," things start getting tense when the discussion circles around talk of a "dream match" between the two. It's the biggest Superstar of the "Attitude Era" – and possibly of all time – and arguably today's hottest commodity in WWE, addressing one of the biggest questions in entertainment today: What would happen if CM Punk and Stone Cold Steve Austin met in a WWE ring?
Check out the post and the full interview and be sure to follow WWE Games on Twitter and Facebook for all the latest on WWE '13, on sale October 30th.