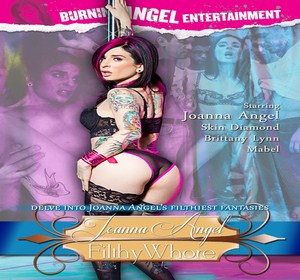 By Misty Emerald
Burning Angel Entertainment presents Joanna Angel in the 4 hour, fully loaded video, Joanna Angel: Filthy Whore with 9 Scenes of non-stop action. Joanna comes alive in this film filled with everything from Fetishes, Group Sex and sexy masturbation clips. Joanna Angel is hungry and has an insatiable sexual appetite that will amaze you. "Filthy Whore", that's an understatement when paired with her performance.
Watch as Joanna washes her feet in the kitchen sink and pleasures herself with a Vibrator or DP's herself with two toys at the same time. The mini masturbation clips strategically placed in between episodes will keep you aroused and leave you on the edge of your seat wondering, "What kinky trick will Joanna Angel show us next?"
The threesome scene where Joanna shares a "Gift" for Valentine's Day with the beautiful and talented Skin Diamond, is in one descriptive word "HOT" and the chemistry between this "Tag Team Duo" is undeniable. Joanna also puts on her Director's hat and orchestrates a scene with Actress, Brittany Lynn providing her sexual support and inserting her talent when needed.
In the final episode, Joanna Angel takes on 8 when she is vigorously Gang Banged and DP'd, displaying her ability to multi-task and simultaneously pleasures them all. 8 guys – 3 holes, you do the math. Don't miss the Grand Finale when Joanna poses for her Facial and gets "showered with love" 8 consecutive times.
I would recommend this movie to any man who loves a challenge, especially in bed. Joanna Angel will cater to your fetishes, fantasies and brings her "A Game" in Joanna Angel: Filthy Whore. For the ladies, I highly recommend this movie if you are looking to spice up your sex life or just seeking new self pleasuring techniques. Joanna is one bad Angel that makes you want to keep watching.
Click HERE to order your DVD copy of Joanna Angel: Filthy Whore.