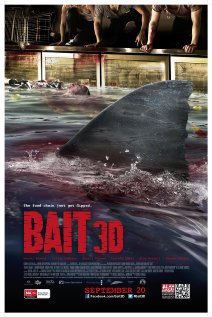 Arclight Films announces the exclusive festival screening of BAIT 3D at the 69th Annual Venice Film Festival on September 1, 2012, just a couple of weeks before the film is scheduled to be released worldwide including the US, Canada, Italy, China, Hong Kong, Taiwan, Japan, Philippines, UK, Germany, France, Italy, Switzerland, Benelux, Russia, Australia, New Zealand, Singapore, South Korea, Thailand, Indonesia, Brunei, Malaysia, Vietnam, The Middle East, Israel, India, Mexico, Argentina, Brazil, Chile, Paraguay, Uruguay, Colombia, Bolivia, Ecuador, Peru, Venezuela, Turkey, Spain, Portugal, Greece, Cyprus, Andorra, Bosnia & Herzegovina, Croatia, Serbia & Montenegro, Slovenia, Hungary, Albania, Bulgaria, Czech Republic, Poland, Romania, Slovakia, South Africa, Cambodia, Iceland and Inflight.
Press and industry screenings are on Tuesday August 28th and Wednesday 29th and the official festival screening takes place on Saturday, September 1st at 12:30AM at Sala Grande.
"Being invited to the Venice Film Festival is absolutely thrilling for all of us," said director Kimble Rendall. "We're excited to take audiences in Venice and worldwide on a chilling, terrifying and immensely entertaining ride."
BAIT 3D, an action-packed 3D thriller, is the first-ever Australian 3D action genre production as well as the first ever co-production between Australia and Singapore. A winning combination of the latest in technology, sound and visuals along with an exceptionally talented cast and crew immediately draw audiences into an adventure of the senses from which they fear they may not be able to escape.
On a seemingly normal day, a peaceful beachside community goes about their daily lives only to be struck unaware by the wrath of a tsunami.
As the survivors in a local supermarket emerge one by one from the murky water and climb on to the store's shelving, they are horrified by what they see; the water, littered with debris and dead bodies, is steadily rising. With exposed electricity cables dangling dangerously close to the surface they soon discover there's something even more terrifying below. As hungry sharks begin to pick them off one by one, the remaining survivors realize they must bury the past and work together to find a way out alive.
"We're honored to be screening BAIT 3D at the 69th annual Venice Film Festival," said producer Gary Hamilton. "This is the ultimate launch-pad for this exhilarating 3D masterpiece that is about to take a bite out of audiences all over the world."
BAIT 3D features a stellar ensemble cast including Xavier Samuel (The Twilight Saga; Eclipse, Sanctuary, A Few Best Men), Julian McMahon (Fire with Fire, Nip/Tuck, Fantastic Four) Sharni Vinson (You're Next, Blue Crush 2, Step Up 3D), Phoebe Tonkin (Secret Circle, Tomorrow When the War Began), Martin Sacks (The Cup, Underbelly), Alice Parkinson (The Cup, Sanctum), Dan Wyllie (The Hunter, Animal Kingdom) Alex Russell (Chronicle, Wasted on the Young), Lincoln Lewis (Underbelly, Tomorrow When the War Began) Cariba Heine (Blood Brothers, The Pacific) and high profile Singaporean stars Qi Yuwu (The Home Song Stories, Founding Of A Party) and Adrian Pang (Holiday, I Do I Do).
BAIT 3D is directed by Kimble Rendall, written by Russell Mulcahy and John Kim and produced by Gary Hamilton, Todd Fellman and Peter Barber. Executive Producers are Chris Brown, Ian Maycock, Mike Gabrawy, Ying Ye and Russell Mulcahy.
Arclight Films is handling sales worldwide.