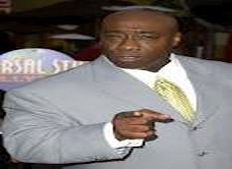 By "Bad" Brad Berkwitt
Hollywood movie star, Michael Clarke Duncan, beloved for his role as the gentle gian in "THE GREEN MILE" was hospitalized early Friday after suffering a heart attack.
Paramedics responded to a 911 call around 2 a.m. and rushed him from his house in Woodland Hills, Calif., sources told the Daily News.
"According to doctors, Michael Clarke Duncan suffered a myocardial infarction early this morning. He is now stable and we look forward to his full recovery," publicist Joy Fehily said in a statement to The News.
Duncan's reality TV star girlfriend Omarosa Stallworth found the ailing actor and performed CPR until medics arrived, TMZ reported.
NewzBreaker extends are best wishes to Michael for a speedy recovery…