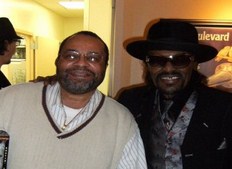 By "Bad" Brad Berkwitt
Yesterday, sad news hit the Virginia, Washington, DC and Maryland corridor better known as the DMV when the radio stations reported that the Godfather of Go – Go Chuck Brown, had passed away at the age of 75, from complications due to pneumonia. It didn't take long for the local radio stations to play his music, take phone calls with fond memories of Chuck, and to let everyone know, that he may be gone in spirit, but his music will always live on…
My cell phone rang at about 3:30 PM when my buddy Rodney (He is in the lead in picture with Chuck on this article) called to inform me of the sad news. He had a premonition that Chuck was in bad shape because the tickets he had for a June concert up at Rams Head in Annapolis was cancelled. Sadly, that premonition rang true.
Over the years, I was able to talk with Chuck who I met with my fiancée Valarie through his manager Tom Goldfogle who always made sure we met him after the various concerts we attended. In October 2009, I asked Chuck to come on Sports Talk TV Show on News Channel 8 in Virginia that I make an appearance on from time to time with host Glenn Harris. Both Glenn and I really enjoyed the show that night and the DVD of it which is in my collection is one now that has even more meaning…. In Valarie's and my house, we have some great shots with Chuck from years gone by… Having a special lady like my Valarie sitting next to me at the various concerts and events, made them all that much more special for sure…
Valarie and I last time seeing Chuck in concert was actually very special because we had front row seats at Constitution Hall in Washington, DC where Chuck opened for Charlie Wilson in April 2010. Chuck and the band turned it out and I can remember Chuck's daughter Cookie, yelling and waving to us from stage right…. It was a great night for all….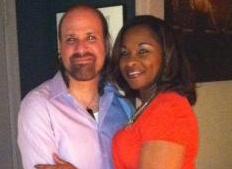 In life, with the people that mean the most to us like my Valarie, you have special moments that you look back on. Both Valarie and I do with Chuck….. Chuck, from Valarie and I, thanks for the memories and RIP….. Your music will live on in our hearts forever……