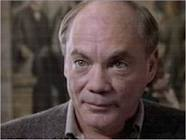 By "Bad" Brad Berkwitt
Character actor Daniel von Bargen, who played Mr. Kruger in "Seinfeld" is clinging to life in an Ohio hospital after shooting himself in the head Monday morning in a failed suicide attempt TMZ is reporting.
TMZ who has the actual 911 call said, "Daniel tells the 911 operator, I've shot myself in the head and I need help."
The actor was supposedly despondent over being a diabetic and having to go to the hospital where they were going to amputate a few of his toes.
NewzBreaker will follow this story carefully….