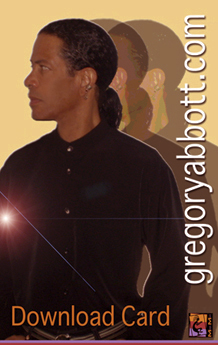 Hi All,
For the past year and up till now I've seen the growth of connecting with many friends old and new. I've enjoyed much humor and introspection along the way, as well as the loss of some very dear friends like Whitney Houston and Phoebe Snow. This of course is something we all deal with in our lives. It is my intention at gregoryabbott.com along with my music … to add a little something beyond the typical music site. Maybe a thought for the day, maybe an observation… As we get older, we think about a lot of different things, and all of these, make us who we are. I would certainly not be one without the other.
I'm quite happy with my new album on Spectra Records- "Drop Your Mask". Thank you all so much for your positive feedback. Please continue to spread the word. I'm always happy to hear what your favorite song on the album is. (So far I'm hearing Sin Ti/Without You and Rhythm Rhyme:)
We started offering download cards for the holidays and they sold out the first time out of the box! We have now re-stocked, so feel free to order so you can give them as gifts or send them to your bff's etc… One card (for .99 cents) gives you three songs… that's a pretty good deal all around. It started as a special but we decided to keep it that way. Check gregoryabbott.com download card link for details…
We've been communicating a lot through facebook the past few years. We are not particularly happy with the new timeline setup on the profile page but they do not allow you to return to the previous version (sigh). We think it loads too slowly and seems a little more impersonal than it was. Alas, we can only wait and see if it gets better. I'll be getting a lot more active on my blog because of it, so please join if you can. In fact, if enough of you join the blog, we will probably try and post the newsletter from there too.
I have a pet peeve. I think there's a fine line between trying to stay in communication with friends and fans, and all these internet ads that get in the way trying to sell you something. It is very annoying and we do our best to stop too much 'stuff" coming at you from our end, but its a never ending problem. As those of you who write to us know— we DO read your emails and try to help out as much as we can. I'd like to take a moment to thank and ((hug)) my all female team at gregoryabbott.com for their hard work. You 'ladies' rock! Oh, and just so you know, they grab me and hold me still every few weeks and make me personally reply to the guestbook and our various other sites (and I'm not easy to find) 🙂 If its signed Gregory, its from me. (Of course they put it all where its supposed to go, but I "say" it lol).
As we get through this winter and head into Spring…. may each day make us all better men and women. The very best to you all. Hugs to my friends and thumbs up to my fans… and as always thanks for listening…
Musically yours,
Gregory