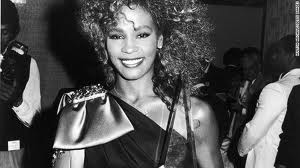 By Danny Allen
Hello NewzBreaker readers. I hope you all are doing well. As I sit here having my breakfast, looking out on the Biscayne Bay, I am deeply saddened by the recent death of one of the greatest singers of all-time, Whitney Houston. My deepest condolences go out to her family – especially her daughter who rightfully so, is having a very hard time dealing with the death of her mother. It broke my heart to see such a talented lady struggle with the evils of drugs and alcohol over the years which really hurt her career as it did my former client and best friend, Errol Flynn many years ago.
In 1986, I was doing some PR work for Eddie Murphy who had just shot The Golden Child and was throwing a big wrap party at his house. Murphy, invited me over and one of his guests, was Whitney Houston, who was absolutely stunning, with a delicious personality that I was introduced to. We hit off it off quickly. I can remember telling her, "your vocal range is amazing and that she reminded me of Sarah Vaughan." Whitney was so moved that I would compare her to "Sassy" Sarah and let me know, that as Sarah did, she also came from Newark, New Jersey and loved Vaughan's music.
From that point on, we hung out the entire night at the party and I think Eddie got kind of jealous of "The Moxie Man." Whitney picked my brain about stories of singers of the past and she filled me in on many of her day. At about 4:30 AM, I had my limo take Whitney back to her house and as I walked her to the door, she gave me a big hug and kiss on the cheek, thanking me for a wonderful night of great conversation.
Over the years, I would see her at various events, and she never hesitated to take me to the side for a few minutes and would always start out with, "Moxie Man, how you been buddy?" We lost touch for about 10 years before her untimely death, but I always watched her from afar and enjoyed her success, hoping that her demons would somehow lose their war against her, but sadly, as those demons usually do, they won once again, taking a talent we will never see again. RIP Whitney, the "Moxie Man" will always hold a place in his heart for you. Say hello to my old chum Errol Flynn up there….