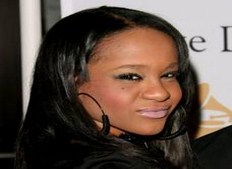 By "Bad" Brad Berkwitt
People Magazine has reported that a source reported that as medics arrived to an unresponsive Whitney Houston in her hotel room of the Beverly Hilton on Saturday, the late pop star's daughter had also heard the news and had a "complete breakdown."
Bobbi Kristina, 18, was in the lobby of the hotel around the time when Houston's body was pronounced dead at 3:55 PM.
Houston was found partially submerged in the bathtub of her room, according to the source.
"Bobbi Kristina was screaming, 'What's wrong with her? What's wrong with her?," says the source.
Police reports say it was a member of Houston's entourage who first found Houston.
A few hours later as the world was hit with the shocking news of Houston's death, Bobbi Kristina was taken to the Cedars Sina Medical Center around 11:00 PM the source went on to say, "because she was having a complete breakdown," added the source.
Bobbi Kristina returned to Cedars around 10:30 AM on Sunday, according to multiple sources and police.
"She went back to the hospital for the same thing – stress and anxiety," says the family source. She was later cleared medically and released.
NewzBreaker sends it sincere condolences to the Houston and Brown families in their time of grief.
Stay tuned to NB for all the latest updates on this tragic story…