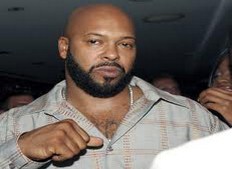 By "Bad" Brad Berkwitt
Rap mogul Marion "Suge" Knight has a new March court date in Las Vegas following his arrest on a 2009 traffic warrant and a new misdemeanor drug charge, authorities said Thursday.
Knight, was stopped driving a black Bentley with California license plates about 5:30 p.m. Wednesday on a street just off Flamingo Road west of the Las Vegas Strip, Officer Laura Meltzer said.
He was issued an unsafe lane change summons and arrested on a warrant stemming from previous traffic infractions. He also was charged with possession of less than one ounce of a controlled substance and released from jail without bail.
TMZ has reported he also had marijuana with him in the car.