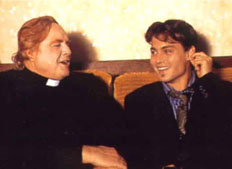 By Danny Allen
One a legendary actor (Marlon Brando) who died in 2004, but left us with a body of work that will stand the test of time. The other, current Hollywood royalty, (Johnny Depp) who as Brando did years before him, takes chances in movie roles and for the most part, nails them to a tee in the vein of Marlon.
MB as I used to call him was someone I knew for many years going back to meeting him for the first time on the set of The Fugitive Kind, in 1958 when he played opposite Joanne Woodward. A young lady who worked as a script girl who both Marlon and I dated at separate times did the introductions. Right off the bat, MB as he told me to call him hit it off. He knew my former client and friend, Errol Flynn and respected his sexual conquests of many of the leading ladies and other beauties throughout his meteoric screen career. By 1959, I Danny Allen AKA "The Moxie Man" had made my way and a name for myself in Hollywood through a ton of hard work bringing Errol back from the abyss of his movie career.
From that day on the set until some 40 plus years later, MB and I remained close friends with him always calling me to come out and visit him on location throughout the world when I could. One such call came in the summer of 1993 when MB was on the set with a young Johnny Depp who was making a name for himself. They were shooting the movie Don Juan Demarco that had MB playing a shrink that was helping Depp and doing light comedy, something he was always good at.
This particular day, MB and Depp were shooting an intense scene where MB was trying to prove to Depp that he was not in fact, Don Juan DeMarco. The back and forth was priceless. When the Director Jeremy Leven yelled cut, MB signaled for me to come over and meet Johnny who was yet, another actor who had a fondness for Errol Flynn. Over the years, I have met countless actors who also had a fondness for Errol and if he were alive today to know that, he would glow from ear to ear…
MB turned to me and said, "Moxie Man" meet Don Juan DeMarco." He then proceeded to kiss Johnny on the cheek as he did with many. Well, just to stage left, I saw a gossip columnist who was a two bit broad known in the business for turning nothing into something. With pen in hand, I saw her take notes of our meeting. As MB, Johnny and I sat talking, I kept an eye on her, but didn't let on. It would be some weeks later, but in a rag paper this same two bit broad started a rumor that MB and Johnny were lovers. This was total Bullshit – excuse my French. MB had always kissed a man on the cheek as he did with me for years, which was a sign of affection. If he really thought you were a friend to him because trust me, he had tons of leeches that attempted to suck his blood dry, he would kiss you on the cheek, sometimes both.
Since 93, stories come up from time to time that still say Marlon Brando and Johnny Depp were lovers, but I am here to tell you once again, it was a totally fabricated story by a two bit broad who is no longer with us – and the world is a better place! RIP MB up there on the big stage and give my best to my old chum, Errol..