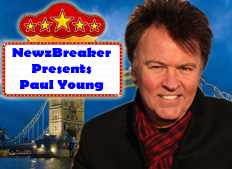 Exclusive Interview by "Bad" Brad Berkwitt
"Paul Young´s 'Everytime You Go Away' is one of my all time favorite tracks. 'Wherever I Lay My Hat' was my official touring sound check – acapella song. There I was every gig alone on stage singing this to an empty arena before the fans came in. I probably sang the song over 1000 times.
Call it blue eyed soul, UK soul, Paul Young soul, it doesn't matter man. It's his own unique vocal styling & music listeners around the world were the lucky ones. I have had the pleasure of chatting with Paul several times over the years as our career paths criss-crossed. Hello mate! Hope all is well. I think it's time we do a song together. Just let me know where & when…. I'm there!"–Peace and one love, Corey Hart
It's no secret that I am a fan of the music from the 1980s. Recently, I interviewed singer Corey Hart who was gracious enough to lend his thoughts on this exclusive interview with singer Paul Young. Young, another successful artist from the 1980's had the look and the sound that brought him legions of fans for his songs such as "Come Back and Stay" and "Everytime You Go Away," which raced up the charts in the early to mid 80s. Paul, like Corey, is alive and well and still following his love of music wherever that musical journey takes him which he shares with the NewzBreaker readers….
NB: Let's catch the NewzBreaker readers on what you are up to today?
I've been shooting pictures for a cookery book. In the UK, I've been on Hell's Kitchen & Celebrity Masterchef…so the public knows about my penchant for food. 13 recipes in a day is a challenge on your lonesome with no help! Hopefully they were the final recipes. It's called "Paul Young; On My Travels," and the U.S. gets a good look-in as I fell in love with Louisiana cuisine, and Southwestern too. Being a travelling musician awakened this lust/hobby.
NB: Growing up in England, who were some of your influences in the music world?
Well, English bands came first. Free being my biggest love/influence, but they all listened to American soul/R&B, so I quickly turned to that. I already liked Stevie Wonder and James Taylor, who's not R&B, but I always was going towards a wider taste…so next came Otis Redding, Sam Cooke, Wilson Pickett, Joe Tex, Steve Miller, and Tony Joe White.
NB: You had major success in the 80s with your music career. As a fan of this era, I really enjoy seeing the 80's music coming back. Do you still look back fondly on this period in your music career?
I liked it better then, not just the obvious 80's radio favorites, but the fact that we also had Robert Palmer, ZZ Top… I loved the variation, and the individuality of each band, which is not so prevalent now.
NB: In the US, two of your songs from the 80s dominated the airwaves: "Comeback And Stay" and your cover of a great Hall and Oates tune, "Everytime You Go Away." On Youtube the fans go nuts when you still perform them. When you do, are they still as fresh to you as they were all those years ago?
Those two songs you mention I think are timeless. Maybe that's the reason why they still sound current and valid.
NB: I can remember when Friday Night Videos, a great show of the 80s, ran your song "Come Back and Stay" and the video, which was very popular. How fun was it to shoot the video?
I shot two. The UK one was where I met my current wife…so I have great feelings about that. We shot another for the US which was a little darker, probably more suited to the mood of the song.
NB: You had the look and style that would seem to equate to movies on top of the music you performed. Was this ever an avenue you wanted to pursue?
Wow! Interesting you should say that. I love movies, and I would have loved to pursue that avenue. When we recorded each track, I would put a guide vocal down, but we would frequently mute my vocal because I wanted the music to really set the mood portrayed by the lyric.
I suppose, because I was seen as a singer only, that's why I wasn't asked. For the last 19 years I have had a Tex-Mex band called "Los Pacaminos," which gives me a chance to write songs for other singers within the band, and instrumentals too. Some reviewers likened the vibe of the instrumentals to something suited to Quentin Tarantino films; but those hints fell on stony ground!
NB: Why do think MTV is not as popular today as when you first started? At the time, it was a medium that really sold songs through the videos for many of the artists you came up with in my opinion.
I'm surprised it's not as popular. In the 80s, it was a tool that we could use so that we could be everywhere at once. Although now, bands can broadcast themselves through the internet in any way they want, so I suppose that could be the reason.
NB: If you were stranded on a desert island and could only have one CD and one movie, what would your choices be?
A CD is hard. I used to choose Ry Cooder's "Bop 'Til You Drop," but I really have played that one to death! I still love his Jazz album. A movie would have to have Johnny Depp in it. I have always admired his choices, and I would still defend his choices now, when people are willing him to fail. I would choose "What's Eating Gilbert Grape," not only because of Johnny, but also Leonardo's (DiCaprio) young genius. He is so good in it.
NB: What is one thing you can share with the NewzBreaker readers that has never been heard before?
That's hard! The tattoo on my ass? It's DC Comic's Hot Stuff, the red devil. There are about 12 of us who have it since the 80's. We all had to have done something stupid/foolhardy to earn it!
NB: What is the one question throughout the years that you have never been asked, but wish that you were?
Well, I have actually been asked what achievement I'm most proud of before, and they expect, and I give, an answer that pertains to music. But really, having kept one wife for 24 years and raising decent kids is my proudest achievement! I realize now…
NB: Finally, do you have a saying you continue to live your life by?
It used to be, like the band Little Feat said, "The people you misuse on the way up, you meet up with on the way down." And my kids are the same, they treat everyone as equal.
But as I get older, I also like, "You Never Know…" because you don't, do ya?!
Paul wanted to add the following to our interview:
Well, the Cookbook, which may get a release in the US. Radio, which I also would like to do (without the constraints of playlists/demographics! I listen to all kinds of music). Los Pacaminos, who have never played in the US, but would love to so look us up, and so would I! Adios….
You can check out Paul's official website by clicking here.
Interviewers note: I would like to thank Mick Cater from What Management for coordinating this interview.