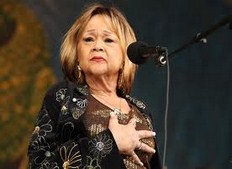 By "Bad" Brad Berkwitt
Highly popular singer Etta James whose health has been failing her in recent years, is now been declared terminally ill by her live in doctor who has asked her fans around the world for their prayers.
Dr. Elaine James, who isn't related to the 73-year-old entertainer, told the Riverside Press-Enterprise that the singer's chronic leukemia was declared incurable two weeks ago.
James, famous for an amazing vocal on the song AT LAST, has been a fan favorite of many over the years.