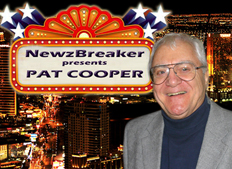 Exclusive Interview by "Bad" Brad Berkwitt
"Pat Cooper is a rarity in the business, best defined with the expression, 'What you see is what you get!' He's the most honest man in the business; one of my favorite people! –an' you can tell him I said so!"—Julius La Rosa
"No one is funnier once Pat gets going! He is hard to top. Al loved him as all Italians do. They adopted him as part of their family."– Judi Martino (Widow of the legendary Italian Singer Al Martino)
Pasquale Caputo came into this world on July 31, 1929. Years later, as Pasquale plied his trade in comedy, he would transform into Pat Cooper, entertaining fans with his own brand of comedy that is more rapid than a 1920's Thompson submachine gun. In the "Book of Berkwitt," the music world had Frank Sinatra, the movie world has Al Pacino, the boxing world had Aaron Pryor and finally, the comedy world has Pat Cooper. Before the NewzBreaker readers bombard me with emails saying are you crazy with these choices, I said in "The Book of Berkwitt."
Pat refers to himself as a "Jazz Comedian" because of his comedic flow. I want to use another medium that I think is the ultimate compliment I can bestow upon him.
Hands down, Pasquale Caputo (AKA Pat Cooper) is the Sugar Ray Robinson of Comedy.
Cooper, by the way, is a huge boxing fan who really knows the sport. In 2008, he was the Grand Marshal for the Parade of Champions at the International Boxing Hall of Fame (IBHOF) in Canastota, New York.
In this exclusive interview, Pat runs the gamut and holds nothing back. …so enjoy this great talent as I have for many years.
NB: As the NewzBreaker readers already know from my recent review of your book, "Pat Cooper: How Dare you Say How Dare Me!," I thought it was fantastic. From conception, how long did it take to write?
It took a year. What I was looking for was a rhythm. When you write something, it's like a song and you have to get a rhythm. So when you read the first ten pages, you say, "I have to finish this thing." I really feel you can hear my voice in my book especially if you know me. Brad, I swear to you as I am sitting here, I didn't write this book for the money. I wanted to just get my story out there. I didn't get one bad write up about my book. The only shit I got was from my ex-family who is still breaking my balls after 50 years. If you go on Amazon, you will see this crap. They are so angry, that I said when I die, who are you going to hate?
NB: Recently the comedy world lost one of their own, when at the age of 41, Patrice O'Neal passed away. You did a lot of Opie and Anthony along with Colin Quinn's Tough Crowd with him and in my opinion, there was a true mutual respect between the two of you. What are your thoughts about the loss of Patrice and how the comedy world will be affected by it?
What a nice man. I first met him on the Colin Quinn Show Tough Crowd and really didn't know who he was, but he was a really nice comedian. On Colin's show, we always had like a ten minute adlib part at the end of the show. I score like a bandit because I have a trigger mind and I am not showing off, but I am gifted. So when I was done, Patrice came over to me and said, "How the hell do you do that without any papers?" I just said to him the only answer I can give you is I am gifted. He was very complimentary to me.
It is very sad that a man like him dies at 41, but you have to take care of yourself. What the f***k does being the greatest comedian in the world mean if you die this young? He was a diabetic and he was overweight. These guys want to be comics 7 days a week. Be a comic 5 days a week and 2 days a week make sure you take care of your health. Comedy is the toughest job in the entertainment business.
NB: I have heard you say comedy has changed today and I could not agree more. Is there any way it can ever go back to what it was and if so, how?
The business that we are in, allowed them to do this. Let me tell you why. Years ago, up in the Catskill Mountains, 99% of the comedians were Jewish. They were making good money. Once the Catskills died, they ran down to Florida. The people in Florida understand the Jewish comics. So once in a while, they brought a young comic down there and the audience didn't understand them and didn't think they were funny. So these old guys are still doing the same shit and are working for the same people who rather hear the same shit then hear some young comic who isn't saying anything.
The audiences have changed…
Do you remember years ago, the ties were big? Then about seven years later, they were small. Well, like that cycle, I am hoping that the old comedy comes back and I am still around to see it.
NB: Along the same lines, does it drive you crazy like it does me when you hear them say, so and so is the next Frank Sinatra for example?
I get so offended when I hear that as well. Do you know what I say? We don't need another Sinatra, we have him on f**king records. What gives you the right to use that man's name?
NB: Do you agree that, in your day when people who didn't see you live first heard your comedy on your records instead, those people had to use their imagination which led them to want to come out and see who the hell this funny man was that they were hearing on the record?"
You have the computer where you can get everything for nothing. You can download, upload, you load, he loads….They are stealing songs off the Internet. They are meeting broads on the computer. Give me a f**king break…Do you want them to go in the store and ask them do you have a Pat Cooper comedy record? Years ago, they said, "Pat ,you are a legend." I said, "No, Milton Berle is a legend." I said, "I am ledge." They said, "What does that mean?" I said, "I didn't make legend yet." The only way I am a legend is being Italian and I broke a barrier in comedy which made me very happy…
NB: You are very vocal about being an American, not an Italian – American. With that said, how does America get out of the jam it is in?
Look over your shoulder and see how it was when we were in the Second World War. Without any ammunition, we became the strongest country in the world because we decided, and unfortunately we had to wait to kill each other, that we now needed each other. If we didn't sit together and need each other, the Nazis and the Japs would have ate us up alive. They were bullies and we proved, you cannot bully this great f**king nation because we will not allow you.
Right now, they are bullying it today because the politicians don't have balls. We had no right putting Obama in. We should have giving Hillary Clinton the presidency and we would have had two f**king Presidents. What the f**k is wrong with this country? She deserved it. She is a bright lady and she knows what she is doing. This poor guy (Obama) is not a bad guy, but he is too f**king young. He made a statement in yesterday's paper that I read where he said, "I need four more years to make it right." To make what right? He has a big problem.
If we get Newt Gingrich, we are going to have to move out of here. Give me a f**king break. Where are the guys and gals from the street who need to say, "You are not going to do this shit"? Why are a handful of political people in this country killing millions? And the millions of people are letting them get away with it.
NB: Who do you see being our next President when the ballots are counted in November 2012? Will it even make a difference?
I think Obama can wins hand down, but if any one of these Republicans gets in, we are going to be in deep shit. I really do believe Obama needs another four years. I would love to have seen Hillary say, "I am going to f**k all of you, and I am going to run for President." She would excite the f**king country like you wouldn't believe. She would say, "I am sick of this shit – I have a country that needs me."
Here's what is happening. Have you noticed the last couple of days, they are saying, "The country is turning around." This country ain't turning around. It's going to be as we get towards the next election, Obama saying, "See, I got the country turning around." He got my cock turning around. He is surrounded by idiot's worse than him. He is not a bad man…
NB: Why don't we see the variety shows of your era on TV any longer? For the most part, all you see now are these horrible reality shows – why do you think that is?
It's considered new. The young people want to know about Kim Kardashian and all this bullshit. Then there is this thing she did for 72 days with the marriage. If she didn't f**k, her family and this country let her get away with it. They're all a bunch of bullshit. I can tell you, in New York City alone, there are better-looking women than she will ever be. She is jealous of herself and she cannot afford to get married because now, she thinks nobody is going to want me anymore and I'm stuck with this c**ksucker I am sleeping with and now they are telling me this guy is gay.
This thing is not over…..
NB: If you were to cast the movie of Pat Cooper's life, who would you pick to play you?
Jesus, I don't even think that far. I don't know. To tell you the truth, that would be a problem and I hope I am not alive to see it because I would jump and say "what the f**k?! That is not what I would do." Or that is not what I would say. First of all, the writers would write it the way they think it would be good for the public. If they would write it the way my book is written, then I would say fine. I wouldn't want a major star, just some nice kid who could look at some of my tapes and see how I am and try to get a feel.
NB: Is there a venue you never worked, but you really wanted to?
Yes…The venue I wanted to play was Radio City Music Hall, but it never happened.
NB: If you were stranded on a desert island and could only have one CD and one movie, what would your choices be?
The CD would be one of Matt Monro's. One of the most underrated singers in the f**king world and the movie would be GUNGA DIN (Starred Cary Grant).
NB: Who is your favorite boxer of all-time?
I am going to tell you Sugar Ray Robinson and I would go to the bank with that. I never saw a fighter finer than Ray Robinson. And how could he die broke? He lived liked a Trillionaire.
NB: What is the greatest fight you have ever seen?
Are you sitting down? I went to Madison Square Garden with my father and I saw a guy named Billy Arnold and Rocky Graziano. Graziano was a 6-1 underdog and on the undercard was Tony Janiro vs. Monte Pignatore (Janiro won an 8 round decision). Vice President Truman was in the crowd and I was in the balcony with my father. Rocky stopped him in the third round. Graziano was not a great fighter, but he had amazing charisma.
NB: What is the one question throughout the years that you have never been asked, but wish that you were?
Wow, that's a tough one… That's really a tough one… I would like to have been asked, what makes you do what you do?
NB: Well, the floor is yours Pat: what makes you do what you do?
I will tell you Brad why I do what I do. I was born with it, it's in my genes. You look at my family tree and you won't see a f**king root. I am the only talent in that family. Many years ago, I thought I was adopted because I had such a great flair and had a great feeling to work for people. I had balls to speak up when you weren't supposed to. It became natural. I could not go to sleep if I knew my father abused me and I would get up the next morning and tell him, "How f**king dare you do that to me?! You better kill me now!" That was never indoctrinated into anyone in my family because they were scared shit…
NB: Finally, do you have a saying you continue to live your life by?
"Don't lie, be a man and say what's on your mind."
Check out Pat's website  by clicking here.
You can read the NewzBreaker book review of Pat's book here.
Interviewer's Note: I would like to thank Anthony Pomes of Square One Publishers and Steve Garrin Pat's Co-Author and Manager for helping coordinate this interview.