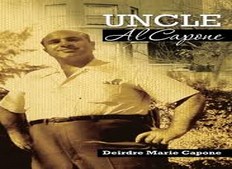 By "Bad" Brad Berkwitt
When one hears the name Al Capone, the old days of Chicago come to mind when he ruled the city with an iron first as Public Enemy #1. Years since his death in 1947, movies have been made portraying his life on the big screen as well as the small screen where he has been a character on shows such as The Untouchables and most recently, HBO's Boardwalk Empire.
However, if you are fascinated by people as I am, you wonder what about the man named Al Capone behind the myth? Well, when NewzBreaker's Managing Editor Geno McGahee was contacted about doing a book review for Uncle Al Capone written by his grandniece, Deirdre Marie Capone he knew that was a genre that I have always been interested in and had it sent to me read/review.
From the first chapter, I was very impressed at the detail that Deirdre poured into this book. She tells never before heard stories that her family told her about Uncle Al, and to her

credit, she really researched and cross-referenced because she knew that people would read the book and say, "well, she is a Capone, so of course she is going to slant things."  I, only speak for myself, but believe the stories.
One such story that I will not go into too much detail on (buy the book), but is totally believable is what they did to Al Capone while he was doing time for tax evasion at Alcatraz. They (Chicago's Power Brokers) knew how powerful Al had been during the Roaring 20's and they feared that once released, he would take hold of the city once again. What they did to him will shock you to your core…
Uncle Al Capone is also a story about family – a family that endured heartaches which are brought to the page in a very poignant way.
This book will unlike no other, shed a light on Al Capone that doesn't cover up his bumps and warts, but allows you to see a side of the man that movie scripts never want to tell because sin sells….
With Christmas upon us, this will make a great stocking stuffer for anyone interested in Al Capone.
To purchase the book, click here