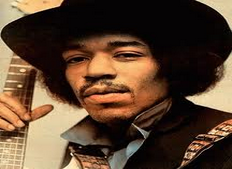 By "Bad" Brad Berkwitt
The late Jimi Hendrix has been named the greatest guitarist ever in a poll conducted by Rolling Stone Magazine. Hendrix, was in good company with Led Zeppelin's Jimmy Page, The Rolling Stones Keith Richards and Jeff Beck to name just a few.
Sadly, Jimi's flame burned out far too soon when he was found dead on September 18, 1970 at the age of 27. His death was caused by him choking on his own vomit.

Loading ...