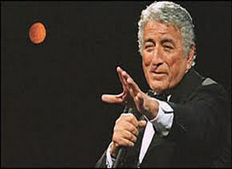 Concert Review by "Bad" Brad Berkwitt
"For my money, Tony Bennett is the best singer in the business. He excites me when I watch him. He moves me. He's the singer who gets across what the composer has in mind, and probably a little more." – Frank Sinatra
Last year for the second time in my 42 years on Planet Earth, I saw the Legend Tony Bennett perform live. The first time was some 17 years ago at the Merriweather Post Pavilion in Columbia Maryland. Well, at the Wolf Trap Foundation for the Performing Arts in front of a sold out audience, Valarie and I sat amongst the old, young, black and white that were united by one thing which we all shared and that was our love for Tony Bennett's music. Opening up for Tony was his daughter Antonia, a songster in her own right, who sang classics from the "GREAT AMERICAN SONGBOOK" and warmed up the crowd with a great interpretation of a lyric and voice to go with it. After a few songs, she exited the stage and the announcer said, "Ladies and Gentlemen, Tony Bennett."
Tony walked on the stage looking dapper as always and for a then 84 year old, he never sat down once during his 1 hour and 30 minute concert. He danced, told stories and sang a who's who of songs from "THE GREAT AMERCIAN SONGBOOK." I lost count at ten standing ovations with loud clapping that included Valarie and I. It was Valarie's first time seeing Tony live in concert and she was not only delighted, she is waiting for me to get tickets for the next one! One of the songs that evoked a standing ovation during the night was the standard THE GOOD LIFE written by Sasha Distel and my Uncle Jack Reardon.
Tony had the hit on this song in 1963 with it going to the number 18 spot on the US Pop Singles Chart and number 27 on the UK Singles Chart. When Tony's piano player hit the first few keys for I LEFT MY HEART IN SAN FRANCISCO (A song that reached number 19 on the Billboard Hot 100 and spent close to a year on various other charts. The album of the same title was a top 5 hit and both the single and album achieved gold record status. The song won Grammy Awards for Record of the Year and Best Male Solo Vocal Performance. Over the years, this would become known as Bennett's signature song. In 2001, it was ranked 23rd on an RIAA/NEA list of the most historically significant Songs of the 20th Century) the crowd erupted in applause. It led to another standing ovation.
As we watched Tony perform, it was so impressive that he had the ability to direct his band, which included Pianist Lee Musiker, Guitarist Gray Sargent, Drummer Harold Jones (whom Tony referred to as Count Basie's favorite drummer) and Bassist Marshall Wood which saw Tony introducing each one and having their own solo moment in the spotlight
By the time Tony Bennett closed out his concert, there was not a person sitting as you once again, heard the roar of applause.
Tony Bennett is living proof that there is no substitute for talent and that a Good Song, will remain, a Good Song for Eternity as my Uncle Stan always tells me. If Tony comes to your town, you will not want to miss him live!