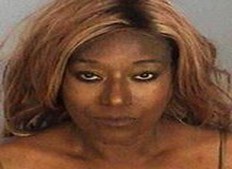 By "Bad" Brad Berkwitt
This past Friday, Bonnie Pointer formerly of The Pointer Sisters and later, a solo career in the music industry was in a vehicle that was pulled over by police because of faulty equipment.
E! News reported that Los Angeles County Sheriff's spokesman Steve Whitmore told them that the 61-year-old Pointer was a passenger in a car with two other people when the vehicle was stopped shortly after midnight for a bad brake light.
Officers peeked inside the car and turned up what they believed to be "rock cocaine," added Whitmore. Pointer was released on a $10,000 dollar bond.
NewzBreaker was contacted today by a source who reported the following information:
"Bonnie has been battling a drug addiction for many, years but seems to be in denial about it. You'd think her embarrassingly poor reviews and lack of success would give her a clue. Her family has been struggling to help her for years, especially after June Pointer's notorious drug addiction that lead to her death. Last year, Bonnie surprised audiences at LA's Greek Theatre by appearing for a couple songs with the Pointer Sisters, after which there was behind-the-scenes talk of performing together again as well as a possible reunion record album. But those things never materialized and more than likely won't unless she turns her life around and gets sober.
Bonnie used to be married to Jeffrey Bowen a senior VP at Motown who made Bonnie's solo career what it was, but drugs eventually destroyed their marriage, as well as both of their careers. In recent years, Jeffrey is doing quite well, back in the music business. But while Jeffrey built back his career, Bonnie spent those years on-the-run getting high with June, and then after her death has been reduced to living in a small apartment in a less than desirable neighborhood, her phone constantly getting disconnected, all the while shows no signs of thinking she has a problem.
There was hope about a year ago when there was talk of her appearing on the TV show "Celebrity Rehab." Early this summer she appeared at a The Roxy and not only did the audience gasp at what she was wearing and how obvious it was that she was not "Ok," but also on stage was a sudo-violin player that was laughed at and rumored to be her drug dealer! She is very outspoken whenever in front of the camera, acting as if she is on top of the world, but viewers only look at her with sorrow as to what she has become."
The source went on to say, "Bonnie's family must be crushed by her behavior and hopes that this recent arrest turns a light on for her."
Pointer has a court date which has been set for January 17, 2012.
NewzBreaker will bring you all the latest details as this story unfolds….