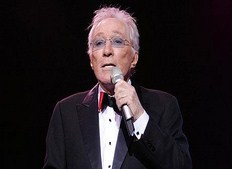 By "Bad" Brad Berkwitt
Legendary crooner and one of America's favorite entertainers Andy Williams, is in the fight of his life battling Bladder Cancer. The 83 year old was diagnosed last month and has begun to undergo a program of chemotherapy.
A source told the National Inquirer about the singer's condition: "Andy got the diagnosis of invasive bladder cancer very recently. That means his cancer has invaded the lining of his bladder, but doctors weren't sure yet whether it had spread to other parts of his body."
It continued: "If the chemo shrinks the tumors, doctors will surgically remove Andy's bladder. Andy is in for the fight of his life."
Williams, for years has delighted millions of viewers that have enjoyed his Christmas specials and had hit songs with Moon River and Days of Wine and Roses to name just a few.
NewzBreaker extends our deepest best wishes for a speedy recovery for Andy that returns him to TV for another Christmas special next year…