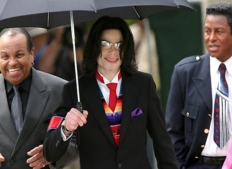 By Danny Allen
Last month was the 9/11 tenth anniversary, and I want to extend my utmost heartfelt wishes to all the families of loved ones lost to continue with the healing process. It was a tragic day that we will never forget. As I sat glued to my TV watching many of the amazing stories about behind the scenes heroes, I saw a separate news story on Jermaine Jackson taking to the airwaves that during his brother Michael Jackson's child molestation trial he, along with other family members, had devised a plan to get Michael out of the country if he had been found guilty.
First of all, who knows if this is true, but it seems that several of the Jackson family members have tried to turn a buck on their dead brothers name and it's getting disgusting. It always seems that either Joe his father, or Jermaine his brother are the main ones. Janet Jackson has shied far away from this nonsense which I think is a smart move and I am not surprised by it.
Back in the 70′s I was doing some work for Norman Lear the Developer of the TV show Good Times that co-starred a young Janet Jackson as Penny. Even then, when I came on the set, she was wise beyond her years, so no surprise she is staying out of this nonsense. Years ago, I was an adviser to Diana Ross when she was filming the 1975 cult classic Mahogany. Diana, invited me to the film wrap party and her date was none other than, a teenage Michael Jackson. I can remember him being a shy young man who told me his dreams of becoming as famous on his own as he was with his brothers in The Jackson Five. We talked about music and to my surprise, he really knew the music business.
Several years later, Michael would call me when his OFF THE WALL album came out in 1979 for my thoughts. I loved it and expressed as much to him at the time. He was thrilled and that would be the last time I would talk with him. However, I still followed his ride to super stardom from afar. As the years got tough, I would cringe at charges leveled at him, and thought back to that young man who had stars in his eyes at the party. I have always felt that he was innocent, but used bad judgment and surrounded himself with people who never really had his best interests at heart like my old friend Elvis Presley.
I feel Michael would have been disgusted by the way some of his family members have acted since his death in 2009 in turning a buck on his name. By all means, the family should manage his estate, but do it tastefully and tactfully.