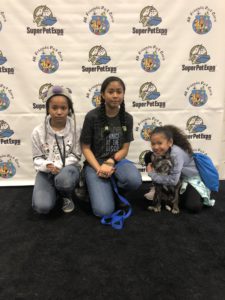 By Tatiauna Miller
Last weekend, I took my daughter, her cousins and of course my dog, Stitch to the Super Pet Expo. I figured 3 girls would love to spend the day around cute animals and shopping. They had fun but there were a ton of strangeness. I spent the majority of the time trying and failing to explain the "pet people's" ways to the girls. The questions they asked me were hilarious, "Why do they have so many articles of clothing with animals on them?" "Why do dogs need a bathrobe?" My daughter was offended when she saw a sign that read "Dogs are better than people". She looked at me and gave that "international WTF face", I told her some people think animals are better than people. Still puzzled she asked me why? I told her because someone hurt them. She's said "Ohhhhhhh I got it, they have issues with people". I roared with laughter on this reply from London!
We saw tons of unusual animal and people pairings. Such as tough looking men with Teacup Poodles and Yorkies with pink and lavender bangs, tiny ladies with huge sleepy dogs. We saw snakes and lizard ladies and of course, the always unusual cat people. People brought their cats in spaceship looking suitcases and tons of dogs in strollers. I kept expecting to see a cute baby in the stroller and I see some old Terrier or some shivering ass Chihuahua looking at me. People leave your delicate and scary ass dog at home; this is too much for them. I saw so many dogs having anxiety attacks from all the activity.
The expo even had activities and games for the dogs. There was a doggy playground where the dogs could let loose. My dog Stitch actually participated; he played with this dog named Cooper that looked like a man on vacation. Cooper had this Hawaiian shirt on and his hair was cut like a hipster it was kind of weird but cute at the same time. They played for a while until some girl dogs came to play and Cooper turned into a college guy on spring break and started grinding on all the ladies.
Coop got kicked out for his creepy ways and suddenly Stitch was not interested in the dog playground. The expo had amusement park rides for pets like the water jump and some electronic string chase activity. The string chase was cool; set up was two rectangular sections blocked off with a line and pom-poms racing along the space that dogs could chase. The dogs loved it but it was $10 dollars! $10 dollars for a few minutes of chasing a string and no prize, I wasn't going to pay that type of money for my dog to have a heart attack chasing some string. He was excited, so I almost let him play but standing in that long ass line, I thought of all the other ways I could spend that $10 dollars. In the end, I decided I could just tie a string on London's ankle and let Stitch chase her for free.
There was so much junk to buy there. Everything from dog leather jackets, leather accented pet accessories, beds that look like mops, cleaning supplies, organic shampoos and essential oils. I did buy some essential oils for my dog, mostly because the seller's father was giving Stitch a major massage and I felt like I had to buy something for his services. Some guy was selling these homemade furry animal ears that you pin in your hair. They were so cute and I just knew that the girls would want a pair. London said she didn't want me to buy her one when I could make that at home, she's turning into my dad.
Let's talk about how much fun my dog had; Stitch was treated like a celebrity! His old ass was like the Sean Connery of the Pet Expo. He got so many back massages, neck rubs and body scrubs. We got stopped so many times by people wanting to speak to him or rub him down. He was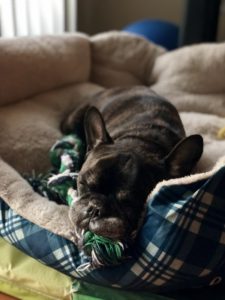 offered treats at almost every booth, which he did not take at all. He was polite because he would gently take it from their hand and put it down; it's his version of "No, thank you".
This one lady cried when she saw him because her French bulldog just died two months ago and they looked similar. That was a weird moment for me because I felt like she needed a hug but then I didn't want to cry with her because I'm a "companion crier". He had so much fun he passed out in his bed at 5pm and slept the entire night.
Thanks for giving me your time! Have a beautiful day, laugh more and live more!
Comments or questions are welcome.