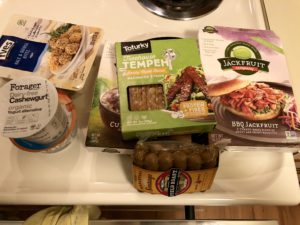 By Tatiauna Miller
I woke up one day and decided I need to eat more vegetables. I wanted to make better food choices and set myself up for a healthy future as I get older. Now I've talked about food with a few of my vegan friends and I'm following a few vegan chefs on Instagram that make all the vegan food look amazing. One Instagram page in particularly really influenced me in my choice to not eat animal products! Her page is gorgeous and the food always look extremely delicious, and just going through her page gave me inspiration. I had all these ideas on what I could eat and I realized that I don't need meat for good tasting food.
Prior to my first day eating vegan I thought about what my favorite foods where and what my plan of action would be. I'm not a habitual person, my habit is to not have a habit. I don't do routines very well unless I really enjoy them. I know that this would be difficult for me unless I approached the situation in a different way. I broke down what I ate during the week and I realized I don't eat much dairy, so this might not be too much of a stretch and baguettes don't have eggs or milk in them! I love bread!
My first change was breakfast, switching from Greek yogurt for vegan yogurt. I tried coconut milk yogurt and it was pretty tasty. I've always liked almond milk, so that wasn't an issue for cereal. I would miss eating bacon, but I'll get over it. My daughter eats all the bacon anyway, so it's not like I get to really eat it. I purchased some vegan breakfast sausage as well as some vegan bacon, which I haven't tried yet. My next obstacle was to tackle lunch. I bought some teriyaki flavored jackfruit and I put that over rice for my lunch for the first week. Watching people make fried jackfruit and pulled BBQ sandwiches gave me ideas and I wanted to try it! You know how everyone loves something, so you think "Oh everyone loves it and so will I!" Wrong as hell! I rarely like the taste of something everyone else likes. Exhibit A, I think Buffalo Wild Wings has the worst food, and everyone loves them! Only thing good is the pretzels and again I love bread. After I tried the jackfruit and yogurt, I ran to the store and stocked up on vegan options. I have tried to stay away from items with a lot of grain filler because it makes me think of dog food. I'm trying to get smart on healthly vegan food options Vs eating french fries all day.
Now that I tackled breakfast and lunch, I knew dinner was the hard part. My daughter saw the jackfruit and all the vegan food and she asked me very aggressive like "If WE are going Vegan now? Because if we are my life is RUINED!" Wow, talk about dramatic. With that comment and combination of my "no routine personality" that it would be better to start slow and ease myself into the vegan life. Currently I'm eating a vegan breakfast and lunch, but eating an omnivore dinner. LOL Ominivore! I've noticed since I'm not eating meat products most of the day, I struggle eating dinner. I'm always full and tired after a few bites and my stomach hates it. My stomach talks all kind of mess afterwards.
When I told the people in my life I was eating vegan, most didn't say much about it. I had expected some jokes but most people were interested and talked about how they plan to introduce more plant based foods into their diet. Even my Dad was interested, I just have to find some good vegan ice cream and cookies for him and he would be set. My vegan friends were excited because they support many animal causes and for them this was one less person supporting the animal farming industry. As the vegan industry has blown up there are so many options in the stores to work with as well and websites and Instagram pages to get inspiration from. I feel like cooking and eating plant based food is a nice challenge for me. It's a health challenge I'm looking forward to exploring even more.
Thanks for giving me your time! Have a beautiful day, laugh more and live more!
Comments or questions are welcome.