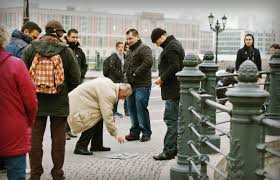 Although it may seem hard to believe, gambling didn't just appear hand-in-hand with the internet. There was a time before Facebook, Google and Twitter ruled the world, a time when people used to play gambling games on the streets of our towns and cities. Today our phones and tablets provide us with access to a multitude of online gambling opportunities, opportunities that past generations could never have dreamed about. There is not much demand for penny pitching competitions when you can go to sites like reelbonanza.com to find out where to play the latest video slots or live dealer roulette games, or place in-play bets on live soccer from your phone. That being said, whenever people gather together there will always be the chance that a friendly wager or two will take place!
While some of these old school games are little more than cons in disguise, others are genuine games and betting opportunities which allow players the to participate in the thrill of gambling with a real prospect of going home with some hard cash. Let's start, however, by looking at a couple of gambling 'games' which you would be well-advised to steer clear of.
The Shell Game is one of the most famous street cons, and one which will see money parted from the unwary in no time. It's simplicity and the fact that it seems easy to win makes it irresistible to those people who think they have found a way to make a few quick bucks. The rules are extremely easy. Three identical containers – like cups or walnut-shells – are laid on a flat surface. A small ball is placed under one of the containers, which are then mixed up by the operator. The player must try to follow where he thinks the shell containing the ball has been moved, and guess the correct container to win. Of course, in reality most operators will use sleight of hand to move the ball to a different place, making it impossible for the player to win. Another common ruse is for the operator to have an accomplice play the game and 'win' to demonstrate its so-called legitimacy.
A very similar variation to the Shell Game is Three Card Monte (also called 'Find the Lady') where three playing cards are used instead of containers. Once again, this is a game that is to be avoided, as it is fixed in favour of the operator. Again, quick fingers and sleight of hand is used to disguise the placement of the Queen ('the lady') that the player needs to find, and once again he is parted from his money.
Not every street gambling game is a con, of course, otherwise nobody would ever participate in the practice. One of the most famous legitimate gambling games is Street Craps, a popular dice game played all over the world. Dice games have been played for millennia – as evidenced by dice recovered from archaeological digs dating back to Ancient Roman times and beyond. While the version of craps played in casinos tends to be more complex and with a greater number of variables, the street version of the games uses the same basic rules. The only way to 'fix' this game is by using loaded dice, and clever players certainly won't be fooled by this type of ruse.
Another, far more rudimentary, street gambling game is pitching pennies. This one dates all the way back to Ancient Greece, where bronze coins were in use, and maybe even further back than that. The idea is simplicity itself: players throw pennies (or coins of any denomination) and try to finish closer to the wall than their rivals. The winner scoops up all of the losing players' coins, plus any side-bets which were made. A variation of the game has the winner throwing all of the coins into the air, calling 'heads' or 'tails' and collecting those coins that land that way. The second-placed player follows the same routine with the remaining coins, and so on, giving lower-placed players the chance to win some cash.
Sports betting has long been another favourite past-time, and in countries where such betting is not legal, markets can invariably be found on the streets. Go to any backstreet bar or café where a sporting event is being shown on TV, and you will be able to find somebody to make a wager with on the outcome. In the time before we all carried around smartphones with the ability to place bets on our screens, such unofficial sports betting transactions happened all the time. Nowadays – at least where sports betting is legal – bets on the outcome of games tend to happen between friends. However, in those countries which still place restrictions upon sports betting you can be sure that thousands change hands in unofficial back-street bookmakers. Bets are made on soccer, tennis, cricket, horse-racing and just about every other sport you care to mention.