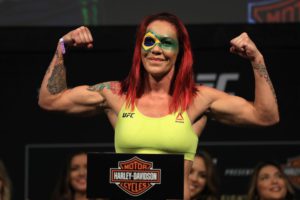 By Tatiauna Miller
Cristiane "Cyborg" Santos a Brazilian born MMA fighter, skilled in Muay Thai and Brazillian Jiu Jitsu disciplines, 145 lbs of danger with a pony tail. Cyborg hasn't just showed up on the MMA scene she's been fighting professionally since 2008. She's fought and destroyed some very good fighters, such as Gina Carano and Holly Holm. Her record is better than Ronda Rousey, Gina Carano, and she only matches Miesha Tate with 19 total wins. She IS the best female MMA fighter and she's not even a household name like Rousey and Carano. Why, because she's not a sex symbol and therefore UFC does not promote her like they did the others.

Cyborg came up the MMA circuit as a "Mike Tyson" style fighter. With 16 TKO's on her record she's an intimidating fighter with knock out power. She can walk anyone down in the ring and she absorbs power shots like cotton candy. She's also a purple belt in Brazilian Ju-jitsu so you not only have to watch out for the powerful strikes but hope and pray she doesn't take you down and submit you. Cyborg started fighting professionally in 2008 and remained relatively unknown until her recent fight against the tall and blond Holly Holm. While I was writing this column, I asked a few people if they know who Ronda Rousey was? If they said yes, I asked if they knew who Holly Holm was? Most said "Yea, she knocked out Rousey" etc. I then asked do you know who Cris Cyborg? Most people either didn't know or they said "Isn't she the one fighting, Holly Holm?" This exciting fighter has been fighting a whole 2 years longer than Rousey and only a few people know who she is.
Not only does she receive subpar promoting by the UFC, she hardly ever gets credit. Every fight she has the credit always going to the fighter she defeats. After her two most recent title fights with Tonya Evinger and Holly Holm, both fighters received an insane amount of praise for someone that lost. I constantly heard how hard these two fighters train to fight Cyborg and how great they looked and what a great job they did going up against Cyborg. I don't know about you but the UFC is not little league, what other praise besides a fat pay check do you need? Plus you lost, why can't Cyborg get screen time and praise for all the hard work she's accomplished since 2008? This is my constant and main issue with UFC, I hope in the near future they will have learned to better promote their fighters and not choose status based on looks.
Thanks for giving me your time! Have a beautiful day, laugh more, live more and give more!
Comments or questions are welcome.