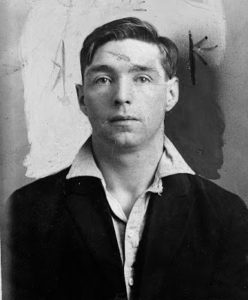 By Larry Henry
Fans of Mafia history who also enjoy those bleak, atmospheric crime thrillers known as film noir have had a lot to like about Sunday mornings.
That's when TCM airs its weekly film feature called "Noir Alley." You can visit the site and view the schedule by clicking here.
The weekly program is hosted by the Czar of Noir, Eddie Muller, who sets up each movie with an interesting, fact-filled introduction and then comes back on at the end with additional information and historical tidbits about that week's movie. To learn more about Muller, visit his website here. 
In some of his weekly remarks, Muller has discussed the ways that real-life mob figures have been involved to one degree or another in some of noir movies now regarded as classics.
Several weeks ago, for instance, Muller mentioned that film star Barbara Stanwyck learned about a certain gun technique from an early New York City acquaintance of hers, gangster Owney Madden, and recreated it for the conclusion of the 1946 movie "The Strange Love of Martha Ivers." 
Click here to read an earlier NewzBreaker column I wrote about Madden and other mobsters in Hot Springs, Arkansas.
Muller's on-air account of how Madden's gun technique was incorporated into the movie differs slightly from this official TCM online version.
On camera, Muller says the idea to use the gun technique was Stanwyck's, while the TCM online version — and a guest of Muller's on "Noir Alley," author and "Noir City" magazine editor Vince Keenan — credit director Lewis Milestone with the idea.
In his on-air commentary, Muller is suspicious of the director. Saying directors "always take credit for everything," Muller adds, "I'm going to go with Stanwyck on this one."
Either way, Stanwyck's association with the gangster Owney Madden is underscored in both accounts.
Madden is not the only organized crime figure to show up on Muller's radar screen.
The Czar of Noir has mentioned mobster Johnny Roselli on the air and in his book "Dark City: The Lost World of Film Noir."
Roselli, the Chicago Outfit's representative at times in Hollywood and Las Vegas, helped finance three noir movies, including the 1948 film "He Walked by Night." Click here to read the TCM account of Roselli's involvement with film noir.
While authorities allowed Madden to leave New York and settle in Hot Springs, Roselli met a more noirish fate. He was killed, dismembered, and stuffed into a 55-gallon drum that eventually was found in Biscayne Bay near Miami.
MOB NOTE: Below is an update to this NewzBreaker column I wrote a couple of months ago about the Arlington Resort Hotel and Spa in Hot Springs, a vacation spot for many of the nation's most notorious mobsters decades ago.
The historic Arlington was facing closure because of unsafe conditions, but as this recent Associated Press story notes, the hotel will remain open while the owners complete a $30-million renovation.
Larry Henry's YouTube channel includes videos he shot of mob sites in Las Vegas, the apartment building in Santa Monica, California, where Whitey Bulger was arrested, and the remote Arkansas airport where Barry Seal transported drugs into the U.S for the Medellin Cartel. Subscribe HERE.
Comments or questions are welcome.