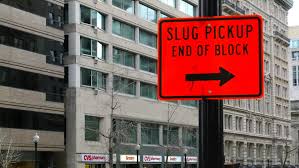 By Tatiauna Miller
My last column I discussed the "Slugging Etiquette" and shared some of the notorious slug driver's I've come across such as Sir Talks a-lot, Rule Breaker and Reckless Driver. This time I'm going to share a few more of my slug stories because why the hell not!
If you remember from last time, one of the rules from the "Slugging Etiquette" was no talking on the phone and I talked being stuck in the slug car listening to a conference call. Well, it happened again! I get in the car and I hear random chatter but it didn't sound like a conference call at first. Then I hear the "Good Morning everyone! Who's on the line?" I guess I could've put my headphones on but I wanted to be nosey.
So, me the smart ass that I am, looks at the driver and says "Uuuhhhh who has an 8:00am meetings on the day before a holiday?" This was the exact moment that she takes the phone off mute and introduces herself! Oh damn! We both wince and burst out laughing! She says "I think they heard you." I just laughed because secretly I've always wanted to ruin one of those conference call slug rides. I guess she won't do that again!
Most people keep some essential items in your car like tissues, an extra umbrella and maybe one of those neck pillows. As a daily slugger stealing from a slug car never crossed my mind. Well, you know how I said people are weird? This is the truth! People are very strange and weird, they do things that don't make sense. I was told a story about a slug that decided to get very comfortable with the drivers neck pillow. The driver said he looked in the rearview mirror and saw the passenger asleep with his neck pillow on. That's pretty gross to make yourself comfortable on someone else's pillow. After the driver dropped everyone off he realized the neck pillow was gone. When the driver saw the lady again and asked her about the pillow, she denied wearing and taking the pillow. The driver said after the confrontation she must have switched commuter lots because he never saw her again. What would you have done? I probably would've taken a photo of her sleeping and then post it on the slug website once I found out she stole my damn pillow. Slug most wanted!
Can we talk about people smelling? Sitting in the front seat for the morning trip is the worse. 90% of these people got stank morning breath. Sometimes I'm wondering if they farted or is it's just the gingivitis? This one guy always smells, for a while couldn't figure out why but I noticed it's when he sighs the poop smell permeates the air.
Out of all the 10 plus years I've slugged, I think I actually rode in the dirtiest car ever a few weeks ago. Usually I'd pass on a sketchy ride but I couldn't tell from a distance how bad it was. As soon as I open the door, I'm like WTF? I'm sure my eyes where dangling out of my head. It was horrible! It was a white station wagon filled with every possible item you could think of. It looked like the driver lived in the car or something. There was a layer of dirt and grit over everything! The junk from the back of the station wagon was overflowing onto the back seat. The backseat passenger had to share the seat with old looking clothes, cups, sandwich wrappers, tools. It was possibly the most uncomfortable ride in that morning. I couldn't even lean back on the seat because I was afraid of that dirt and grime getting on my clothes. I don't understand why you feel it's ok for a person you barely know to ride along in your filth. I would understand if he had to drive at the last minute but the other passenger told me he drives all the time. Yup I'm skipping him the next time!
You think slugging stops in inclement weather, nope! As long as the toll road is charging and HOV is restricted the rides are there. I've slugged in ice storms, blizzards and hurricanes. I've gotten stuck in the slug car for hours due to ice storms, and you have to ask the driver to pull over to find a place to pee. It happens!
Thanks again for giving me your time! Have a beautiful day, laugh more, live more and love more.
Comments or questions are welcome.