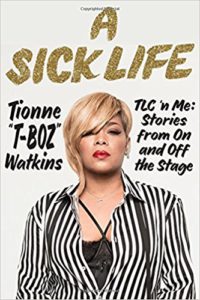 By Katrina Broner
TLC has been my favorite girl group since I was a little kid! I remember having Ain't To Proud 2 beg on cassette tape and jamming out to it with my father. As I got older I mimicked T-Boz, my favorite member, as much as my parents would allow which was usually baggy jeans and her hairstyle. I was absolutely thrilled that she had written another book, this time about things I always wondered about my favorite group or wanted the truth about.
Once I got my hands on it, I was elated! There's a great cover photo of T-Boz in her classic grown woman but a tomboy look, "A Sick Life" at the top in sparkly gold letters and 235 pages. Being an avid reader, I knew I would devour it; sure, enough I finished it in a day.
It's great if you have a few hours to kill and want to be in the mind of a beautifully brave human being in the midst of the worst battle.
Tionne is in an ongoing battle with Sickle Cell Disease. Most people know what it is and most know that she has it. The way she consistently describes it in the book creates a lingering chill and constant worry as you read. As she tells her stories of fame the automatic thoughts after each sentence becomes "What about the disease? How will this affect her?" It's exactly how she has to think every day of her life and not just for herself, for everyone around her, especially her children. Tionne's children play such a big miraculous role in her life, it's evident that she is yet another awesome mom. This book also leaves a lingering hope that everyone should come to know.
As T-Boz in the book, she definitely satisfies the curiosity about TLC. They're my favorite group and as much as I know about them, I still learned a few new things. The biggest blow for TLC was losing Left Eye, as a fan it was tough reading this part of the book from a different perspective. She successfully changes the perspective of the reader from being a crazy fan, to being in the moment in her shoes. So much of it I remember watching and wondering but after reading this I understand better why certain award shows, videos and even fights appeared the way they did. Throughout the book I did start to notice that there was significantly less mention of Chili and the dynamics of Tionne's relationship with her.
I suppose there's more to it than that she opted to reveal but still the book presented them united and as close as family. I would've liked a little more depth to some of the other relationships presented, like with her best friends as well as how she conducts business as Tionne differently than what she has done as T-Boz, as a performer. That was clearly such a challenging obstacle that is quite suddenly resolved in the book.
TLC is and will always be the most influential female group of all time because there's just not a certain box to put them in. There never will be because they were the origin of so many things entertainers do now. Even with Left Eye gone the book is a window into their lives and their music going on always in memory of her. On a 5-star rating scale, I give A Sick Life by Tionne "T-Boz" Watkins a 4.
It's a fairly quick read, quick paced story of constant strength and fierce hope, faith and love that everyone will enjoy.
Here is a link to purchase the book.
Until Next Time, Stay Awesome.
To see more of Katrina's writing follow the TrinityLife and shop at her online company 2Key Creations.
Comments or questions are welcome.