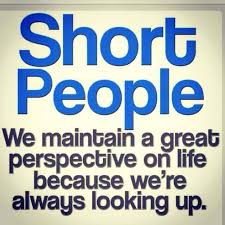 By Tatiauna Miller
I'm an average short person. At a mere 5 feet and 1 inch, I'm shorter than the average 5th grader. Which is quiet humbling, especially when the kids from my daughter's school keep asking me what high school I go to? In a few years, my 7 year old daughter will be looking down on me and she can't wait. Shit, I can't wait either! No more stepstools and catching leg cramps from over-reaching, she's fetching everything from the top shelf and the middle shelf too!
Speaking of the top shelf, how come everything I need from Walmart is on the top shelf and pushed to the back? I always have to climb up the shelves to get what I want. Sometimes my daughter and I become a human ladder and I lift her up to reach the items. But that balancing act is always the last resort, she's too heavy to balance and shoulder press in the air in the middle of Walmart. Plus, kids have bad balance and they don't follow directions, she's always grabbing everything else but what I told her to get. The human ladder was our go to move when we went apple picking, we got all the good apples! Why would any want to invite short people apple picking, anyway? How are we going to get anything good and who wants to walk around with a step ladder all around the orchard? No one, that's who!
Being short in a crowd or at concert where its standing room only sucks! That's why I like to go early to get the "Short Row" seats. As soon as one giant person gets in the way, my party is over and I can't see nothing! That's why I utilize the ass grab move, it gets people moving! People tend to hop out the way from an ass grab. While their hopping out, I'm hoppin' right in to that empty spot. But please just remember to keep a straight face, no one ever expects me to grab a handful of some strangers booty. In large crowds I'm always getting elbowed and ponytail whipped. That's the worse feeling to get slapped across your face by someone's dirty ass hair or elbowed in the back of the head. Either, I'm elbowed or face level to some sweaty dude's armpit as he walks by holding his beer aloft. Forget saving your damn beer what about saving my nose! Also, I tend to get stepped on by tall dudes in a crowd! Step on me, I'll trip your ass in mid stride! I'm bringing big bitches down to my level on a daily basis!
I can't just buy whatever dress or pants I see in the store. I swear all the pants are made extra-long or I have extra short legs. I'm pretty sure the latter is true, every long dress or slacks I buy are 5 inches longer than necessary. I'm so short, I even have trouble getting in and out of SUVs and Trucks. I have to jump in the truck and instead of jumping out, I always slide down. I slide down because I don't want to call attention to my short ass by skydiving off the back seat.
Why do short woman always attract short guys? OK, I get that you want someone your size but why me? I don't want to look a guy in the eye and I don't want to make little short babies either! I always meet short muscular guys, Sponge Bob looking men! Two short thick people together are going to make Oompa Loompa babies, and which one of our short asses is going to get stuff from the top shelf?
Everything at the gym is made for tall people. My damn arms and legs are too short for all the machines and then I have to spend 5 minutes reading the directions to see how to make the height adjustments. Last night I was looking like a toddler getting on the Spin class bike, and that was before I decided to walk around like Goldie Locks trying different bikes until I got the right one.
There are a few good things to being short; I can sit anywhere and be comfortable. That comes in handy when traveling. I can stretch out on any airplane, bus or automobile. Short people have good balance too. Try pushing a short person down, it's basically impossible. And if you do get us down, we just pop backup, we're already a foot off the ground anyway. Men like short women too. We make them feel like Paul Bunyan, when they get stuff off the top shelf.
I'm one of the shortest people in my family. I don't know how I drew the short end of the stick; literally but I've tried to overcome all my shortcomings to be the best short person I can be.
Thanks again for giving me your time! Life is short so have a beautiful day, laugh more, live more and love more.
Comments or questions are welcome.