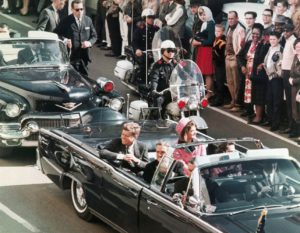 By Larry Henry
Two acclaimed organized-crime writers squared off in Las Vegas recently, debating whether the mob orchestrated President John F. Kennedy's assassination.
On one side was Dan E. Moldea, on the other, Gus Russo. Both are noted investigative journalists and authors.
During the debate at The Mob Museum, Moldea argued that notorious labor leader Jimmy Hoffa and two Southern organized-crime bosses, Carlos Marcello of New Orleans and Santo Trafficante of Tampa, engineered the Nov. 22, 1963, killing of the president in Dallas.
Moldea asserted that Hoffa and the two mobsters were upset at the president's crime-busting attorney general brother, Robert Kennedy, for aggressively pursuing them.
Russo, on the other hand, argued that no direct link has ever surfaced connecting the mob to the JFK assassin, Lee Harvey Oswald, a "nut job" and "violent guy" who had tried to murder others during his troubled 24 years of existence and even killed a police officer later on the same day that he shot the president.
The debate, moderated by journalist and author Geoff Schumacher, the museum's senior director of content, can be viewed by clicking here.
The event proved to be timely in that it came only days before the federal government released a batch of secret files related to the JFK assassination. While no link has emerged in the files directly connecting Oswald to a conspiracy involving the mob, the CIA or anyone else, the files have revealed some interesting tidbits as are shown here. Additional files could be released in April.
Insisting he was "just a pasty," Oswald denied assassinating Kennedy before being shot and killed himself on Nov. 24 by Dallas nightclub owner Jack Ruby while in police custody. Watch here.
Larry Henry's YouTube channel includes videos he shot of mob sites in Las Vegas, the apartment building in Santa Monica, California, where Whitey Bulger was arrested, and the remote Arkansas airport where Barry Seal transported drugs into the U.S for the Medellin Cartel. Subscribe HERE.