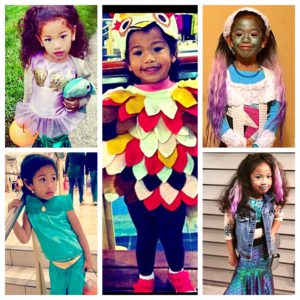 By Tatiauna Miller
Bring out the decorations your tricks and treats, it's time for Halloween! I love Halloween and not because I'm a Pagan or candy junkie, I just love to dress up. Yes, I have flare for the dramatics! If I could go to a costume party a few times a year, I would be content. Besides costumes, I don't care about anything else Halloween. I'm not buying no decorations, who has space to store all that? Pumpkin carving, I'm not doing it! Now you got a funky pumpkin rotting on your front porch.
Before I had my daughter, I would give out candy to the Trick or Treaters. I ain't giving out no candy, to a big ass kid with no costume. I need to see some creativity before I give you this expensive ass candy. Halloween candy is expensive and now I see some people upping the Trick or Treating game. Last year the houses in my neighborhood where giving away brownies, cookies, glasses of wine and beer to the parents. We got chocolate wasted kids and drunk moms running the streets at night, bound to be some drama. Last year this one house gave out fortune cookies! Now you know they took those stale cookies from work. I threw them cookies in the trash, when London wasn't looking.
A few years ago we would go to the mall because it's the place to be seen with your cute ass costume. Imagine tons of people lined up going from store to store to get candy, this is always an excellent reminder on why I don't like people and crowds. First, we have the rude ass kids that jump the line and run into your child. Next time they knock over my kid, I'll trip their bad asses when they run by. Yup, I trip kids and adults too. Y'all need to learn some self-control! What's a better way to learn some self-control then a one-way ticket to the floor? I spend half my time stiff arming parents and kids at the mall. People losing their mind over some temporary tattoos and Dum Dums.
When my daughter was old enough to really wear a costume I decided to start making the costumes for her because I'm fancy and cheap. My first real costume creation was an Owl costume. I spent 3 days cutting Owl feathers out of felt, but she looked so cute when it was done. Since it was homemade she could roll all around in it and still look Halloween fresh. My goal for every costume is; it's comfortable, warm and durable. I can't stand when I had those cheap ass Halloween costumes as a kid that we always had to wear a jacket with. All you see is Superman, Batman and Cinderella running around with coats on. First of all Superman is never cold and Batman has enough money to make a climate controlled suit, I'm pushing for authenticity here! Since I've been making costumes my daughter has been an Owl, Ariel, Jasmine, Abby Bominable (Abominable Snowman's daughter), and last year's Rocker Mermaid.
Sadly this year I'm not making her costume, she wanted to be Catwoman but the boring looking one. She picked the Dark Knight Catwoman, which looks super lame by the way. It's a scuba diver's suit with cat ears and I lobbied really hard this year for a Unicorn but she was not having it. So with her Catwoman choice it sucked the creative life from me and I just ordered it from Amazon. It looks OK but I'm not happy with the accessories. I still may make her a furry coat because why not, I'm extra.
I've decided to go to a Halloween Party this year and I plan to be dramatic as hell. I told my mom I was going to be a Voodoo Priestess and she said I was inviting the devil in my life. Call me crazy but I was offended that she was implying that I'm casting spells on unsuspecting individuals. Look all I'm doing is wearing a corset, feathers and black lipstick, if that's inviting the devil in my life than half the chicks on Instagram are screwed. I enjoy the creativity and the dramatics of dressing up, I think I should be a drag queen. At least I can get paid to wear my art and act crazy on stage.
Thanks again for giving me your time! Have a beautiful evening, laugh more, live more and be creative.
Comments or questions are welcome.