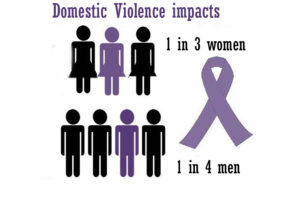 By Katrina Broner
"She Hit Me!" Words we rarely hear a man yell because in general it is not talked about as abuse to men. It's made into a TV show, called crazy baby mama, crazy ex-girlfriends and it's a joke. If most people hear a man say "I'm a victim of domestic violence." people laugh, get confused as to how that is even possible or worse, they blame him.
In our society women are always encouraged to report domestic violence, but if a man is getting throat punched every other night he's encouraged to shut up and take it. Men are supposed to be strong, invincible pillars of little, if any, emotion. He better not tell nor should he defend himself or he's automatically considered a coward. The truth is anyone that knowingly abuses another human being is a coward. It is a forgotten rule that if you hit, you better expect to get hit back…unless you're a man.
After a while, the fear of losing respect, ruining reputations then sets in and the accusations and assumptive question comes, "Well, what did you do to upset her? You must have deserved it." So, yet another man is silenced, mentally tortured and further abused. This kind of thinking dismisses the toxic women that hide their abusive behaviors behind the gold pedestal that women are placed on when it comes to abuse and violence. There is often no exception, all it takes is a woman to play the victim role and even if the man was well within self-defense, his ass is grass.
We are more accustomed to hearing a woman yell, "He hit me!" Women that try to sell this lie, make it hard for real women that need help and should be held accountable as well.
However, it would be nice if in general, women were held in that much high esteem when it comes to our reproductive organs. If you tamper with or otherwise hinder a woman's right to choose, to protect or to prevent a pregnancy or anything else nobody wants to pay for anyway…their ass should be grass. In fact, grass is too good they can go to hell but that's another rant for another time.
Whether we like it or not our country is changing but Intimate Partner Violence has not so it will continue and possibly be reported more often as our marital laws have changed. The image domestic violence conjures is usually a man beating a woman senseless, when in reality men get beat by their female partners too. In reality, there's domestic violence in same sex relationships as well. 1 in 4 men are victims, 1 in 18 men are stalked to the point they genuinely fear for their lives and 40% that experience severe physical domestic violence are men.
Just because no one likes to talk about it doesn't mean it does not exist, it is not permission for it to be joked about or ignored. Domestic violence can, unfortunately, touch anyone. If people are going to scream "All Lives Matter", it should be about this because we manage relationships with people day in and day out. I don't want to see anyone else excluded, laughed at or ignored for being a victim.
If you know anyone or you need help through this horrible situation I've listed a few great places to start.
Note: I wrote this referring to women at first, then I switched out women to men, it was that simple. I was a victim, I am a survivor.
National Domestic Violence Hotline
1-800-799-7233
Florida Domestic Violence Hotline
1-800-500-1119
There is help, there is hope, there is healing.
Until Next Time, Stay Awesome.
To see more of Katrina's writing follow the TrinityLife and shop at her online company 2Key Creations.
Comments or questions are welcome.