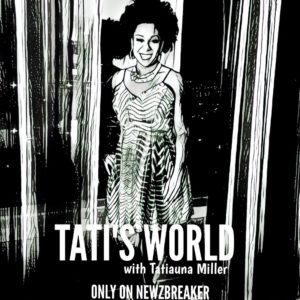 By Tatiauna Miller
I love my curly hair! I love every unwilling strand on my head but it stresses me out. I usually spend a good part of the day on Sunday's giving myself a pep talk to wash and detangle my hair for the week. I'd rather do 25 other difficult tasks than to do my own hair, it's a struggle. On the way into work, I was thinking it's time for a haircut and it's been a long time. Damn, the last time I had a trim/haircut was almost 2 years ago! Yes, it's that bad! So I was thinking since it's been that damn long, I should finally try one of those curly hair cuts. I googled curly haircuts and Deva Cuts popped up. Deva cut is a technique that the stylist uses to cut curly heads while it's dry. Most people get their hair trimmed when it's wet but with curly hair, the shape of your hair changes when it's dry, so this dry cutting process allows for a style that works best for your hair texture and shape.
On Google this one stylist pops up and she's apparently a Deva Cut artist. I snoop her Instagram page like most smart consumers would do because I need to see what she's working with? My main concern as an African American female is, can she do my hair? I don't mean can she physically do it, I mean is she going to fuck up my head? Since my hair is so thick, I only go to two people and the last time I saw one of them was 2 years ago! I believe in just leaving my hair alone to just be all it can be, I'm kidding.
Actually, I'm just impatient, going to the salon is a long ass day for me and the stylist. Every time I take my daughter to the mall hair salons for a trim, before the receptionist can even greet me some stylist comes running up telling me I need an appointment, meaning my type of hair needs an appointment. You should've seen that stylists jacked up head, that chick needed a damn appointment herself!
I play dumb and ask "What do you mean an appointment?" This large ass sign right here says "Walk-In's Welcome!" Then the Receptionist has to come save the day with some garbled excuse/apology about what that loud mouth ass stylist meant to say. Anyway I gleefully tell them "It doesn't matter because I don't do walk-ins either. I need someone very skilled." I proceed to ask for a SIMPLE kids trim and request someone other than the busybody stylist. So, dealing with situations like that I don't go to just anyone, I go to someone that makes me feel comfortable.
After I've googled and Instagram snooped, I book the appointment for the next day to prevent myself from changing my mind, because I will do that. The next day, I walk in bright and early and the receptionist is giving me the annoyed Librarian look like I've come to ask her to explain the Dewey Decimal system or something. I tell her my name and she tells me to "have a seat" on the smallest couch ever with two other people on it. They must've stole that couch from the VIP section from some tiny ass club in DC. In DC, anything fancy and expensive means it's going to be small as hell, because they paid a lot of money for some expensive location in a tiny ass row house. I sit down in between two people on this tiny love seat and I wait 19 minutes. I was 15 minutes early and she was 4 minutes late. Yes, I counted because this appointment was expensive, I'm paying for her time and skills here. The entire 19 minutes I was sitting in between some lady drinking coffee and a man on his laptop. I'm not going to lie and tell you I didn't look at what he was working on. I did look and it wasn't interesting.
At 11:19 the stylist takes me back to her station and she looks at my hair and she asks me how long ago was my last haircut was? I said "Ummmm maybe a year and a half ago or something like that".
She sighs and rolls her eyes at me and then gives me her curly haired diagnosis and she starts working. I totally don't trust the process because I have no idea how she makes it even. She's just cutting and cutting, a little here and a little there, no finger measuring involved it's just free style. Shape starts to form and it's looking good, but we have to cut way more than I anticipated for healthy hair growth. So by 11:50, I have about 8-10 inches less hair on my head. I hadn't realized how short it was until I put my fingers in it and I panicked like "No more ponytail?" After the cut I'm sent to the shampoo bowl, the young lady washes my hair and puts the styling products in. Then she asks me very confidently to sit up and shake my wet hair all over the floor! So you mean wet up the floor and this lady next to me on purpose? She says "Yes!", so I do and the entire time I'm worried someone's going to slip and it's going to by my fault. After that I get my hair dried and the entire process is done in an hour and 45 minutes.
I will say it turned out nice. Having short hair does require more work, but change is not something I'm afraid of. I can't wait for the awkward "What did you do to your hair?" questions at work. I'm going to work on a few canned responses; it caught on fire, I got stuck in a fan or the good ole I didn't do anything to it, I don't know what you're talking about.
Thanks again for giving me your time! Have a beautiful day, laugh more and live more and don't wait 2 years for your next haircut.
Comments or questions are welcome.