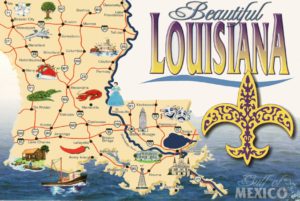 By Larry Henry
To many, Louisiana is an alluring destination known for moss-draped bayous and excellent food, where the unofficial state motto, Laissez les bon temps rouler (Let the good times roll), defines not just a widespread infectious attitude but also an inherited way of life.
To others, the Bayou State is a breeding ground for 747-sized mosquitos and something more sinister: organized crime and political corruption.
A few things connected to Louisiana popped up on my radar screen recently, reminding me that my home state remains a place of never-ending interest and intrigue. This is especially true regarding its well-documented history of crime and corruption.
Next month, The Mob Museum in Las Vegas is hosting a debate between two highly regarded mob writers, Dan Moldea and Gus Russo, on whether the Mafia engineered the Nov. 22, 1963, JFK assassination.
Moldea is expected to assert that the mob and labor leader Jimmy Hoffa were behind the killing, while Russo will say Oswald acted alone.
Whichever side you're on, the debate will be of huge interest to those who want to know more about what happened in Dallas — and the behind-the-scenes events that led up to the shooting — on that tragic day 54 years ago. Here's a link to The Mob Museum website.
Undoubtedly, Carlos Marcello's name will surface during the Oct. 24 debate in Las Vegas. The longtime New Orleans mob leader had an intense hatred for JFK's mob-busting attorney general brother, Bobby Kennedy. Another Southern mobster, Tampa's Santo Trafficante, JR., also hated the Kennedys.
Having Bobby Kennedy eliminated apparently would not have disappointed either of these ruthless mob bosses, but if Bobby Kennedy had been the target, his brother, the president, would have unleashed enormous resources in tracking down those responsible.
At least that's one theory among those who believe the mob was responsible for the assassination.
According to that theory, with JFK gone, Bobby Kennedy would become powerless anyway under the new president, unpolished Texan Lyndon B. Johnson, who wasn't fond of the condescending Kennedys to begin with and didn't share their zeal in stamping out the mob.
I had an opportunity to delve into all of this earlier this month when I appeared on The Milwaukee Mob podcast with host Wayne Clingman, discussing the New Orleans Mafia, Carlos Marcello, the Kennedy assassination and more. You can listen to the podcast by clicking here.
Barry Seal
Airplane pilot Barry Seal, a Baton Rouge native, was one of the most notorious names in the illegal-narcotics underworld during the 1980s, flying planeloads of cocaine into the U.S. for the murderous Medellin Cartel.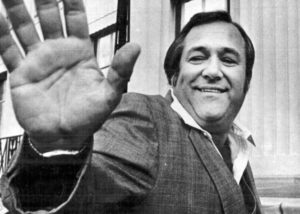 Seal used a remote airfield in Mena, Arkansas, as his base of operations before being killed by Colombian hitmen at a Salvation Army halfway house in Baton Rouge, where a judge had sentenced Seal to a light sentence in a court case.
Now Seal's exploits are the subject of a major Hollywood production, "American Made," set to be released in theaters nationwide on Sept. 29.
Here's the link to the movie's website.
True Detective
To the delight of "True Detective" fans, including me, the popular HBO crime series will return for a third season at an undetermined future date. The new season's main action will take place in the Ozarks, featuring a "state police detective from Northwest Arkansas."
Here's a link directing you to more information.
Series creator and writer Nic Pizzolatto, who also is a novelist and short story writer, spent time in Northwest Arkansas in his earlier years, having earned a graduate degree in creative writing from the University of Arkansas in Fayetteville. His undergraduate degree is from LSU in Baton Rouge.
The New Orleans native put his knowledge of the Bayou State to use in writing the first "True Detective" series, which aired in 2014, with Woody Harrelson and Matthew McConaughey playing two Louisiana State Police homicide detectives seeking a serial killer.
The first season was a huge success, with a large viewership and widespread critical acclaim, but the sophomore season, set in Southern California and airing in 2015, while popular with many fans, earned less praise from critics.
Pizzolatto's first few scripts for the third season have generated excitement in the television world. That fact only adds to the anticipation.
I count myself among those fans eagerly awaiting the next season.
Laissez les bon temps rouler, indeed.
Larry Henry's YouTube channel includes videos he shot of mob sites in Las Vegas, the apartment building in Santa Monica, California, where Whitey Bulger was arrested, and the remote Arkansas airport where Barry Seal transported drugs into the U.S for the Medellin Cartel. Subscribe HERE.
Comments or questions are welcome.