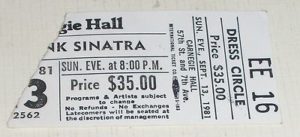 By Jerry Pearce
Thirty six years ago this week, Frank Sinatra was a busy man; having arrived in New York City early in the month of September 1981, Sinatra had two obligations to fulfill in the Big Apple: final recording sessions for his forthcoming saloon album "She Shot Me Down", as well as an elite concert date at Carnegie Hall.
Having recorded selections throughout April, July and August of that year, Sinatra returned to the old Columbia Recording Studios (where much of his early recording successes of the 1940s took place) on 30th Street, during which he laid down two final selections with arrangements by Gordon Jenkins, conducted by Vincent Falcone, "Hey Look, No Crying" and "Monday Morning Quarterback."
The album was later released that following November, today considered the last great Sinatra album of torch songs recorded in his long, storied career.
Recording was an afternoon activity that played second fiddle to the real reason he was in the city: a prestigious series of concerts in conjunction with the George Shearing Quintet on the stage of Carnegie Hall. Shearing would open the concert with a half hour of instrumentals, immediately followed by Sinatra and the orchestra. In press, Shearing (a blind musician) referred to the pairing as "Ol' Blue Eyes" and "Ol' No Eyes."
A twelve day engagement of concerts, stretching from September 8th to the 20th, was filled with a lot of great 1980s Sinatra fare, including Sinatra's wonderful 1977 arrangement (by Nelson Riddle) of Tony Bennett's hit song "When Joanna Loved Me," as well as selections from his forthcoming album in addition to some of his greatest hits. From showstopping staples to new additions, the full set list is as follows:
1. I've Got The World On A String
2. Fly Me To The Moon
3. Come Rain Or Come Shine
4. When Joanna Loved Me
5. Strangers In The Night
6. Something
7. The Lady Is A Tramp
8. Good Thing Going
9. Medley: The Gal That Got Away / It Never Entered My Mind
10. Luck Be A Lady
11. As Time Goes By (with Tony Mottola, guitar)
12. My Way
13. In The Still Of The Night
14. These Foolish Things (with Vincent Falcone's, piano)
15. Pennies From Heaven
16. I Loved Her
17. Introductions
18. New York New York
Until next time, Sinatra lovers!
Jerry Pearce is an amateur singer in the vein of Frank Sinatra, Perry Como, and Dick Haymes and has released two discs of standards music, Crossroads in 2010, and One Summer Night in 2016. Samples of his music can be heard on his YouTube Channel. To purchase his CDs use the form box below.
Comments or questions are welcome.