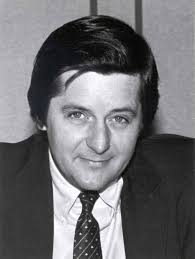 By Larry Henry
As George Knapp remembers it, when things started going sour for the mob in Las Vegas decades ago, no one was immune from threats.
Not law enforcement officials, not state regulators, not even news reporters.
No one.
"For the most part, the mobsters we used to chase around understood it was our job to cover their lives," said Knapp, a veteran investigative reporter for the CBS affiliate in Las Vegas, KLAS-TV Channel 8. "They didn't seem to take offense, but there were some exceptions."
Knapp's account of those gritty days when Mafia heavies were a fixture in Las Vegas appeared last week on The Mob Museum's Facebook page as part of the museum's Inside Stories series.
One of the "exceptions" who attracted the angry attention of the Las Vegas underworld was newspaper and television muckraker Ned Day, whose car was firebombed in 1986, presumably by mob figures upset with his hard-hitting stories about Mafia control of local casinos and street rackets. Someone in July of that year poured a flammable liquid on the ground around Day's car and lit it. Day was not in the car at the time of the overnight incident outside his apartment.
That incendiary episode served as a fiery exclamation point to Day's dramatic 11 years in Las Vegas. He is considered one of the most fearless mob reporters of his generation.
Prior to that, however, Day's colorful exploits in his mobbed-up Midwestern hometown, Milwaukee, included his direct participation in more than a few questionable episodes.
The details that follow, first published in Milwaukee Magazine and other media outlets, portray a man who emerged from the dark side to carve out an acclaimed career.
In Milwaukee, Day, a self-described gambler and pimp, worked in mob boss Frank "Mad Bomber" Balistrieri's strip clubs and ran a tout sheet providing tips on horse races down in Chicago.
Ned Day's father, who died at age 60, had been a once-famous bowler later targeted by the FBI in 1965 for running an illegal national gambling service downstairs in the one pro shop he had left after a sad decline fueled by hard drinking and gambling.
Day's own interesting past in Wisconsin included an arrest for passing bad checks and marriage to a former Miss Nude International.
But the scrappy Ned Day began turning his life around after a University of Wisconsin-Milwaukee professor steered him into journalism.
In that working-class town, whose Major League Baseball team name, the Brewers, reflects its beer-making (and beer-drinking) heritage, Day, through journalism, began his signature trait of siding with those on the bottom rungs of the power ladder and going after those at the top who abuse their power.
That's not to say that Day's time in Milwaukee after his turnaround was untroubled.
Another woman with whom he'd had a serious relationship, a stripper who had bounced from Honolulu to San Francisco to Milwaukee, was murdered along with her 10-year-old daughter, both killed by a crazed Wisconsin farmer who had been paying the woman for sex.
After the suspect's arrest, Day wrote a nonjudgmental newspaper account of the mother and little girl who had become his goddaughter and who died trying to defend her mom during the killer's strangulation attack.
Months later, Day moved to Nevada, seeking a fresh start and new adventures at age 31.
In Las Vegas, working at first for the small Valley Times newspaper and cultivating sources in dive bars, strip clubs and other seedy spots, Day, who later became a trench-coat-wearing television reporter, exposed the mob figures who controlled casinos in Las Vegas, taunting some, including the Chicago Outfit's hot-tempered Southern Nevada street enforcer, Tony "The Ant" Spilotro.
Day referred to the 5-foot-5, 170-pound Spilotro, a lunatic killer who served as the inspiration for Joe Pesci's character in the movie "Casino," as a "fireplug who walks like a man."
Day suspected that Spilotro's associates were responsible for firebombing his uninsured Volvo, but the reporter would not be around much longer to fight back against local Mafia types. A little more than a year after the incident, Day died of a heart attack while on vacation in Hawaii. He was 42.
The 30th anniversary of his death is next week on Sept. 3.
Day and his KLAS-TV colleague and friend George Knapp were part of a cadre of hard-nosed mob reporters operating in the tough tradition of investigative journalists Ed Reid and Ovid Demaris, whose 1960s true crime book, "The Green Felt Jungle," pulled back the curtain on corruption, vice and mob rule in Las Vegas.
Day's 1980s documentary "The Mob on the Run" is still considered vital viewing for those wanting to understand the Mafia's influence in Las Vegas. You can watch it by clicking here.
Now Knapp is one of only a few reporters still working in Las Vegas who covered the mob when wiseguys were as common in Southern Nevada as poker chips.
In addition to his television reporting, which has included retrospectives on the Las Vegas mob, Knapp also sometimes interviews Mafia figures and organized-crime writers in his role as occasional Sunday night host of the national overnight radio talk show Coast to Coast AM.
Another well-respected observer who has been on the scene for years is Geoff Schumacher, a journalist and author now serving as The Mob Museum's senior director of content. Schumacher continues to write insightfully about the mob on the museum's website and elsewhere.
In the spring, Schumacher and Knapp were on a panel with others at The Mob Museum, detailing the way local news outlets covered Mafia figures in Southern Nevada.
The panel discussion, "Media and the Mob in Las Vegas," can be viewed by clicking here.
Much of that panel discussion, of course, focused on one journalistic legend: Ned Day.
Larry Henry's YouTube channel includes videos he shot of mob sites in Las Vegas, the apartment building in Santa Monica, California, where Whitey Bulger was arrested, and the remote Arkansas airport where Barry Seal transported drugs into the U.S for the Medellin Cartel. Subscribe HERE.
Comments or questions are welcome.