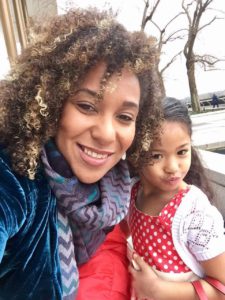 By Tatiauna Miller
I'm a single black female with a child. According to some lame ass statistics I would be considered the least desirable mate. WELL…..according to "Tati's World" a world-renowned publication here at NewzBreaker, I'm an extremely desirable mate and I'm very confused on why I haven't found the BEST person for me. Notice I said the "best person" and not the "right person." To me the "right person" seems generic and unattainable, the "best person" is someone that will complement my life.
The right person always looks good on paper. This person probably meets all the requirements on my "wish list" and seems too good to be true, almost intimidating. It is intimidating until I start to wonder, why the hell is this person single? They must be crazy! I don't mean fun and eccentric type crazy, I mean restraining order type crazy. If they aren't crazy then there is a high probability that this person is emotionally slow , with an emotional IQ of 0. My kid's goldfish has more emotions then this person, no thanks!
The "best person" is a real person. This person may have some flaws but so does everyone. This person may have tried and failed at a few relationships, but so have millions. I don't want a "Rookie" I'd rather have a "Love Veteran." This person has seen some shit and knows what the hell they want. This person may have been wounded in battle, but is healing. People always shy away from potential mates that have baggage because that shit can be messy. Stop being a pansy, life is messy!
Before I continue just a clarification on baggage, there are two types of baggage. We have normal baggage; which is the residuals from a previous relationship, which with time can be stored away never to be seen again. Then we have bad baggage; your new boo's Crazy Ex, (who they think is harmless) that comes to peak in the windows at 3am. Ummm that person's still in battle, please pass on that soldier.
Some people think since I'm single with a child, I should not be dating. Why do they have to be selfish with love? I have room in my heart for one extra person! The world only gave me one free love pass and I screwed it up? You ever notice women get more grief for being single with children, but men get praised when the roles are reversed? Why is being a single dad more honorable? They do the same thing as moms except they have dangly bits.
Some women feel so guilty about dating or doing anything that makes them happy, they'd rather give up and make their children the main source of fulfillment. That's sad to me. Why can't we be selfish and do as many things that make us happy as possible? Who said Mothers can't multitask? I guess people that haven't changed a diaper while wrestling a shitty baby, that's who! It's also not fair to hang all your hopes and dreams on your children. It's not their job to make you happy, they just do it by default.
So it's 2017 and I'm single with a baby, sounding like a Tupac lyric. Out in the world trying to meet someone that enhances me on a physical and emotional level. Then I realize they can't just be best for me, they got to best for my kid too. Now is when the shit gets tricky, this is the part in Mission Impossible where Tom Cruise is hanging from the ceiling flipping through invisible laser beams. I've met people great for me but not nearly good enough for my child. I also dealt with the opposite, great for my child but annoying as hell to me. I've tried a few in the middle of the spectrum, with lack luster results.
Oh boy and if I meet someone that has kids, then I'm seriously judging and taking notes on their parenting skills and child's behavior. My petty level will be at 100% and I'm already crossing you off if you have a bad child! If you made your child into a spoiled jerk, I don't want you or your hellion around my kid. I'm also scratching off the helicopter dad! That hovering around is just annoying! Kids are durable as hell, they'll be alright! I'm marking off the guy that spoils the hell out of one child but ignored the others. If you're going to spoil a child it better be all of them damn children.
After all that, no wonder I'm still single! I think I put myself in timeout, perhaps in the future I'll get off the bench and join the dating game. As of now I'm content to not subject myself to bad dates, surprise dick pics and immature people. Just enjoying life and accepting what it gives and takes.
Thanks again for giving me your time! Have a beautiful day, laugh more and live more…
Comments or questions are welcome.