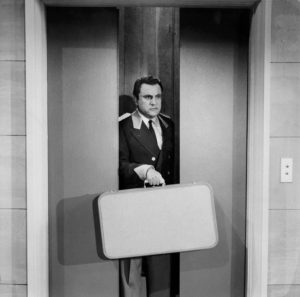 By "Bad" Brad Berkwitt
Bill Dana a very popular comedian and comedy writer for decades died at his home last week in Nashville at the age of 92. He rose to fame on TV with his most famous character, the bumbling, English-mangling José Jiménez that delighted audiences for years.
His death was confirmed by his friend Jenni Matz, who is working on a documentary about him.
Dana had been writing for television for many years and performing in nightclubs for nearly a decade when, in 1959, he created José, who appeared for the first time in a sketch on "The Steve Allen Show." The conceit of the sketch was that José, whose first language was clearly not English, worked as an instructor of department store Santa Clauses. ("Ho ho ho" was written on his blackboard as "Jo jo jo.") The sketch introduced his signature line, "My name José Jiménez," which Mr. Dana delivered with such a heavy accent that it came out "My naing o-ZAY Ee-MAY-nez."
NewzBreaker extends our condolences to the Dana Family in their time of grief.