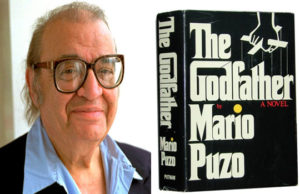 By Larry Henry
Mario Puzo, a New York City native with bad eyesight who grew up poor in a rough neighborhood, wanted to be James Joyce, the Irish novelist and short story writer whose poetic use of language and deep insight into human nature have forever solidified his status as a literary titan.
Instead, with five children and a couple of serious novels that critics praised but very few readers purchased, Puzo needed to make money, and so he wrote and, at age 49, published "The Godfather," based on Mafia tales he'd heard while churning out pulp stories for adventure magazines with titles like "Swank."
The paperback rights to "The Godfather," which came out in March 1969, sold for $450,000 — the equivalent of more than $3 million today, according to an online inflation calculator.
Puzo, who didn't begin working on "The Godfather" until he was 45 years old, finally was on his way — as a storyteller, not a Joycean wordsmith — writing numerous novels and screenplays after that.
His newfound fortune even allowed him to begin buying the books he wanted to read rather than having to put his name on a waiting list at the local public library.
Puzo really vaulted into fame, and hauled in even more money, after he and film director Francis Ford Coppola collaborated on three "Godfather" movies, the first one hitting theaters in 1972. For his work, Puzo won two screenplay Oscars.
Puzo was not the first fiction writer to discover that you can make a fortune by giving readers what they want. As popular crime novelist Mickey Spillane once noted, more salted peanuts are consumed than caviar.
With the hoopla surrounding the 45th anniversary of the first "Godfather" movie, including a showing earlier this week in select theaters, I hope I cannot be faulted too much for wanting to refocus attention on the mastermind behind it all, Mario Puzo.
Even though he died in 1999 at age 78, Puzo, in my view, continues to reign as the heavyweight champion among Mafia novelists.
One interesting aspect about the Puzo legend is the belief by some that he must have been connected to the Mafia to have written with such precision about that world.
Even notorious gangster "Handsome" Johnny Rosselli, once the Chicago underworld's overseer in Hollywood and Las Vegas, told Puzo he had to have known crime boss Frank Costello to have penned "The Godfather."
Not so, said Puzo. He didn't know any mobsters before writing the novel and only met a few, like Rosselli himself, after it was published.
Puzo even once conceded that he romanticized the characters in "The Godfather," while also pointing out that he took a "colder" look at the Mafia 27 years later in "The Last Don."
You have to admire how he evolved as a writer.
In most instances, I'm not a huge fan of doorstopper-sized novels that take forever to hack your way through, but as it happened, I began reading one of Puzo's major sagas earlier this year, the 531-page paperback version of "Fools Die" with its minuscule font size, carrying it through airports and onto flights during separate trips to Las Vegas and Seattle over a couple of months, and, while not expecting great literature, I honestly couldn't wait to open it back up each time.
Normally I confront a new page in a long novel with dread, knowing I have a forest of uninteresting words and a long, tedious, boring narrative to slog through, but Puzo's impressive storytelling skills, on full unpretentious display in "Fools Die," are compelling. He gives you what you want, an array of colorful characters who get tossed around by life.
When you get right down to it, that's what we enjoy, us salted-peanut lovers.
Larry Henry's YouTube channel includes videos he shot of mob sites in Las Vegas, the apartment building in Santa Monica, California, where Whitey Bulger was arrested, and the remote Arkansas airport where Barry Seal transported drugs into the U.S for the Medellin Cartel. Subscribe HERE.
Comments or questions are welcome.