Loading ...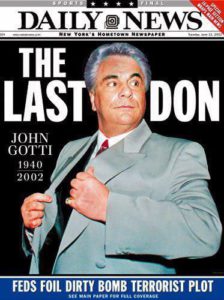 By Marla Eggar
John Gotti has been a controversial figure in the mob world since he stepped on the scene. Known for his vitality and brazen attitude, John Gotti was (and still is) loved, hated, respected and loathed. It's hard to have a conversation about La Cosa Nostra and not include the name Gotti. To some, Gotti's character embodies the very definition of a gangster. To others he's the very reason for its downfall. At one point in time, I wrote a post that in this article I will elaborate on. For those who missed it, here's what was said:
Why is it that John Gotti has become the fall guy for everything that's wrong with the mob? Gotti's critics will tell you he was a ruthless, dense, big mouth and my personal favorite "flashy dresser" lol. In reality, you can damn near make those claims about any mobster on this page. You want to talk ruthless, look up Nicky Scarfo or Rudy Sciarra. You want to call somebody dense, look up the Lucchese Cappo Anthony "Blue Eyes" Santorelli & his son Freddy Boy. And when it comes to loudmouth or talkative mobsters I got two words for you, Angelo Ruggiero. Btw, who can name me a boss who hasn't been caught talking on wire taps in this modern day technology… Go ahead I'll wait… Exactly!
Did any of his critics ever take into consideration that it was Gravano's elaborate testimony that put 36 members away? And for someone whose, supposedly, so flashy I don't recall him going out and buying a mansion. Outside of his wardrobe I do believe he stayed in the same house until he was jailed in 92.
He didn't go out and buy a 40 foot cabin cruiser and docked it outside of his property but I know a mob boss who did (Scarfo). And for someone who supposedly "so incompetent" he didn't induct an ex-police officer into his crew like John Stanfa. And for someone who "craved the limelight" I don't recall him hiring a cameraman to record his every day activities but once again there was a mob boss who did (Merlino).
Last, but not least, for the record how pathetic, lonely, jealous and desperate must one's life be to critique another man's wardrobe to the point where you know how much it costs? Seriously! Men talk about other men shoes, wallets, golf clubs, dick size not wardrobe. At the end of the day, just be real. Say you don't like his swagger, say you don't like the way he carried himself, say you don't like his notoriety, whatever! But stop reciting everything you hear from Joseph Coffey to Michael Chertoff. Anybody who embarrasses law-enforcement the way Gotti did is not going to get an honorable mention js. #TeamGotti
Now when I wrote this post I wasn't trying to be disrespectful. I just couldn't fathom the logic behind labeling Gotti the worst "mob-boss ever" or contribute his actions as the "downfall" of the mob yet overlook bosses like Joseph Massino (a boss that actually flipped on his own family to save his skin) or Joseph Bonanno (a boss who actually did write a book and gave television interviews). These men don't even get an honorable mention in the "bad boss" department yet Gotti, gets ridiculed for speaking to the media on the way to the courthouse. It's not like he was calling up the media saying "Hey I got court at 1:00 PM I 'll be making my entrance at 12:45… Be there!" It's easy to judge his actions from a 2017 perspective. The fact is, when you look at Gotti's overall performance as boss there's going to be things he shouldn't have done, beefing with "The Chin" was one. Looking back there's room for improvement on everyone's tenure regardless if their a mob boss on the streets or serving in office. The other issue I find that people have with Gotti is his notoriety.
Let me ask a question, "How was this unavoidable?" This man had three different agencies going after him at the same damn time. Could it be their lack of communication with one another that led to Gotti being perceived as the "Teflon Don" or did he create that name himself? Think about it, if someone puts a camera two inches away from your face and starts asking stupid questions or lurks outside of your home waiting for you how are "You" at fault? How does sarcastic remarks and smirks transcend into talking to the media? I've heard it said that Gotti's mouth is the reason a lot of wise guys ended up in jail. Ok, let's test this theory. What has put more people in jail Gotti's mouth or RICO? FYI, there were audio recordings at Gotti's other trials and even if you dismiss the case where the juror got paid the $60 grand he still beat the other two cases fair and square! RICO on the other hand, has gone through the mob like Chlamydia at a whorehouse and once again, Joe Bonanno is to thank for that. Before sentencing Frank Locascio, who was found guilty alongside Gotti in "92" had this to say:
"First, I would like to say emphatically that I am innocent, I am guilty though. I am guilty of being a good friend of John Gotti and if there were more men like John Gotti on this earth, we would have a better country." (NY Times printed it)
That's a hell of a statement to make before going to jail for the rest of your life. If anybody had reason to criticize, judge or utter the words "Bad Boss" it would've been this man. That statement is a testament to Gotti's character. There's a lot of things that define a man in this world. Not only his actions, but the company he keeps. Gotti had one of the best mentors the "Life" had to offer, Neil Dellacroce.
In reading about Neil, he didn't come across as someone who catered to imbeciles. Neil's dedication to Gotti as a mentor implies that he saw something in him that was commendable. Say what you want about Gotti, at the end of the day it's debatable based upon your perception. There is one thing however that remains legit about him. The definition of manhood has swayed way to the left and down. It's no longer what it once was. It was once defined by your ability to go out in the world and improve the life of your family above your own upbringing by 50%.
Now, that definition has been chopped up, diced up, feminized and thrown in the gutter. If you could say anything about Gotti it's this… He was definitely a man's man. A man of old school values who didn't make apologies for who he was. A man who didn't look to find someone else to blame. A man who didn't write books, give interviews or attempt to get his side of the story out once he was locked up. He rolled the dice, took the chance and in the end, took his punishment like a man. They clearly don't make men like this anymore and that's why Gotti is and always will be the "Last of The Mohegan's!"
Comments or questions are welcome.