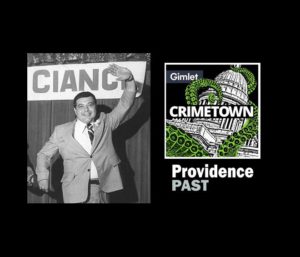 By Larry Henry
Providence, Rhode Island.
Not a place some people might think to put on a short list of the most corrupt, mobbed-up cities in American Mafia history.
New York definitely would go on the list, as would Boston and Philadelphia.
Chicago would be there, and so would Detroit and Milwaukee and Kansas City. Tampa and New Orleans would make it, too, along with Las Vegas and Los Angeles — and even Hot Springs, Arkansas.
But Providence, Rhode Island?
Yes, Providence.
As listeners of the podcast "Crimetown" know, Providence has an extraordinarily dark past, populated by ruthless Mafia hitmen and dirty politicians.
Among the city's corrupt characters, on full display in "Crimetown," was Vincent "Buddy" Cianci, who went from mob-fighting prosecutor to mayor to convicted felon.
Subtlety was not Cianci's strong suit. As mayor in 1983, Cianci confronted a friend in the presence of a judge and a former attorney general, accusing the friend of having an affair with his ex-wife, and then burned the man's eyelid with a cigarette and threatened him with a fireplace log.
This happened in Cianci's residence, later called the "crime castle," on the ironically named Power Street not far from prestigious Brown University, an Ivy League school.
Cianci entered a no-contest plea in the assault and received a suspended sentence. He was forced by law to resign from office, only to run again at a future date.
Later, again serving as mayor, Cianci was found guilty of a racketeering conspiracy charge and sent to prison for five years.
Modesty also was not in Cianci's DNA. Even his memoir has a pompous title, "Politics and Pasta: How I Prosecuted Mobsters, Rebuilt a Dying City, Advised a President, Dined with Sinatra, Spent Five Years in a Federally Funded Gated Community, and Lived to Tell the Tale."
Cianci became a radio and television host, dying last year of colon cancer at age 74.
Earlier in his career, Cianci was part of a state prosecution team that unsuccessfully went after notorious Mafia boss Raymond L.S. Patriarca in a murder case.
As a politician, though, Cianci struck a secret jobs-for-votes deal with a mob hitman controlled by the Patriarca Crime Family. Cianci claimed he didn't sell out to the mob but instead had to make "arrangements" to guarantee political success.
Meanwhile, Patriarca ruled the New England underworld from the dumpy Coin-O-Matic Vending Machine Co. on Atwells Avenue next to a Gulf service station in the Italian Federal Hill neighborhood, on the other side of the river from Cianci's grand residence and Brown University.
According to news accounts, Boston gangster Whitey Bulger was among those who funneled payments to Patriarca for the right to run street rackets.
On a side note, many will recall that Bulger famously eluded authorities while on the run for 16 years. He finally was arrested in 2011 outside his apartment building in Santa Monica, California. (An iPhone video I shot of the building in 2015 is on my YouTube channel. Johnny Depp portrayed Bulger in the 2015 movie "Black Mass."
As for Patriarca, he died of a heart attack in 1984 at age 76.
The Cianci and Patriarca stories are laid out in the 18-part Providence series on the "Crimetown" podcast.
The podcast, developed by the creators of HBO's "The Jinx", is well-produced, with interviews, music, and nice sound effects — and more foul language and shootings than a Mario Puzo novel. Each episode, or "chapter", comes out about once a week on most Sundays and lasts about 30 minutes.
The free podcast is available at crimetown.com. I subscribe for free on my phone, but I also like the website because it has a lot of extras, including clips of TV newscasts from the Cianci/Patriarca period.
Sadly for "Crimetown" junkies, though, the Providence series came to an end this week, on Monday, May 8, after debuting in the fall. The season was to be capped off with a public event on Thursday, May 11 (sold out in advance), at the Genius Event Space in Brooklyn, featuring a panel of "wiseguys, cops, and other citizens of Providence".
But for those who love "Crimetown," there is good news.
The Providence episodes were the first in a series investigating "the culture of crime in a different American city" each season.
I, for one, hope some of the mobbed-up cities listed at the top are in the rotation, but the truth is, it really doesn't matter which cities they focus on. I'll listen anyway.
It's that good.
Larry Henry's YouTube channel includes videos he shot of mob sites in Las Vegas, the apartment building in Santa Monica, California, where Whitey Bulger was arrested, and the remote Arkansas airport where Barry Seal transported drugs into the U.S for the Medellin Cartel. Subscribe HERE.
Comments or questions are welcome.