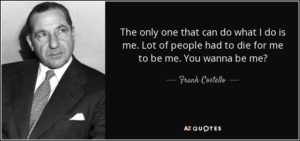 By Marla Eggar
As everyone may know Frank Costello was known as "The Prime Minister of the Underworld". Despite retiring from the mob, he still retained power and influence in New York's mafia and remained prominent throughout his final years. Mob bosses and old associates such as Carlo Gambino and Meyer Lansky still held Costello in high regard during his retirement and sought after his advice on important mafia affairs.
In his lifetime, Costello became known for combining crime with politics. His ability to do such helped the mob buy and influence judges, police and politicians. In return, the mob didn't need to worry about pressure from the law considering much of them were on their payroll. One might ask how Frank Costello became so influential and valuable to the mob? Well, I'll tell you…
Frank's story began in Lauropoli, Italy. Like many mobsters of his time, he and his family moved to the US in pursuit of a better life. Costello and family reunited with his father who lived in New York. In his youth, Costello joined up with a local gang committing small crimes. After being arrested and sent to jail on three separate occasions, he decided that the way to make money was to use his mind rather than violence.
This was an uncommon notion; nevertheless, it would help him avoid incessant prison terms. During the early part of the 1920's and the Prohibition Act Arnold Rothstein entered the picture. Rothstein aka "The Brain" is credited for transforming organized crime from hooligan activities to profitable business. Rothstein became a big part in the lives of Costello, Luciano, and the Jewish fraction of the group Lansky and Siegel.
Each of them he educated and mentored in overseeing business. In the latter part of Costello's life this education would pay off. By the mid1920's, Lucky, Frank and Johnny Torrio joined together to organize a bootlegging operation which was called the "Big Seven Group", the inspiration behind the TV show Boardwalk Empire. This operation worked for many reasons, but two are by far more significant than others. First, it combined sources (liquor) to maximize profits yet cut down the costs of overheads involved. Secondly, having a low overhead helped them beat out the competition. If you can't fathom this concept watch an episode of Boardwalk Empire!
In the 1930s, the Luciano Crime Family was formed. Lucky became the boss, Genovese the underboss, and Costello the consigliere. This is where Costello's trouble begins. You see, Costello was good. In fact, he was diligent at turning a profit and anytime you outshine your comrades you open the door to cynics. In Costello's case, Lucky was sentenced to jail; 30-50 years and Genovese becomes Acting Boss. One year later, Genovese was indicted for murder. Talk about dumb luck!
From jail, Lucky now makes Costello acting boss. From all accounts, Costello was favorable and profitable as boss. He shared family interest, didn't demand large proceeds and was overall a likable boss. So, with all this success where does his troubles begin? With Genovese! You see, when Vito Genovese beat the murder charge he looked to be restored to his original position in the family.
Despite being a Caporegime he wasn't happy. So, in return Genovese began to build trust and a support system within the family, particularly with soldiers. Helping out desperate street soldiers, doing favors and lending money was all part of a bigger scheme to have them reciprocate the favors down the line. During the 50's, in spite of being a successful mob boss and Commission member Costello felt the need to be appreciated by legitimate society.
One of the ways he did this was testifying at the Kefauver Hearings. One of the memorable moments of the hearings was when Costello was asked "What have you done for your country Mr. Costello"? In return Costello replied with: "Paid my tax"! I love that line. Unfortunately, the mob did not.
By bringing attention to himself and losing some of his closest confidantes Costello ended up exposing himself to a (failed) assassination ordered by none other than his longtime adversary Vito Genovese. In time, Costello and Genovese came to a deal. The deal was that Costello would step down as Boss and in return he would keep his legitimate business interests and gambling operations. Even though Costello was demoted to a family solider, he will always be respected as a powerful boss and someone who helped build La Cosa Nostra.
Comments or questions are welcome.