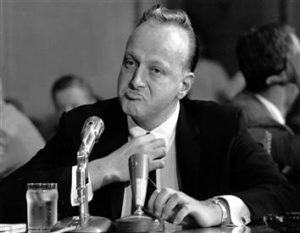 By Larry Henry
All these years later, nobody knows who blew up Frank "Lefty" Rosenthal's Cadillac, injuring him with his to-go order of ribs outside the Tony Roma's restaurant in old mobbed-up Las Vegas.
His former lawyer, gin-swilling Oscar Goodman, who flamboyantly later served as Las Vegas mayor sometimes with showgirls at his side and a giant martini glass, said last month he doesn't know who was responsible for the bomb blast.
Same for Bob Miller, the Clark County elected prosecutor at the time of the blast almost thirty-five years ago.
He doesn't know.
I once worked for Miller as press secretary when he was governor, and I don't know either.
Nobody knows.
Goodman and Miller, two longtime Las Vegans with knowledge of Nevada's underworld, appeared with others on a panel in April at The Mob Museum in downtown Las Vegas. I watched it live on the museum's website. You can view the replay.
The highly engaging discussion, titled "Media and the Mob in Las Vegas," was moderated by the museum's Senior Director of Content, Geoff Schumacher, the city editor at the Las Vegas Sun when I was the paper's political editor.
A portion of the 1-hour, 46-minute event at the museum centered on Rosenthal. Asked about it, Goodman said he doesn't know who is responsible for the bomb. Miller added that his office couldn't determine who did it.
Obviously there's still a lot of interest in the bomb blast, given who Rosenthal was, and how he represents the bygone, rough-and-tumble Mafia years in Sin City's history. Though shaken, Rosenthal survived the blast and moved out of state, dying in 2008 in Florida at age 79 as a storied national crime figure. To this day, Rosenthal's gambling-centric official website is viewable online.
When Rosenthal's Cadillac Eldorado blew up in the fall of 1982 on the Tony Roma's parking lot on East Sahara, he was well-known around town, an egotistical oddsmaker who'd operated the Stardust hotel-casino for Midwestern mob bosses — and had angered those bosses with his high-profile showboating and arrogant confrontations with state gaming officials. A video I shot in 2015 of the bomb site is on my YouTube channel.
The bomb blast was featured in "Casino," the now-classic 1990s mob movie based on a book by New York journalist Nicholas Pileggi. The Rosenthal character was played by Robert De Niro.
Being featured in a classic movie helps keep the unsolved bomb blast alive. In the way that some mob mysteries are evergreen, the bombing incident resembles the never-ending who-done-it regarding Jimmy Hoffa, the corrupt former Teamsters leader presumably slain by Mafia hitmen.
Incidentally, the best wrap-up on the Hoffa saga, written by Dan E. Moldea, a Washington, D.C.- based crime author and Hoffa expert, appeared in July 2015 on the paid Mafia website Gang Land News. Moldea later posted the piece for free viewing on his own website, with permission from New York City mob writer Jerry Capeci, who runs the Gang Land News site.
While no one knows who is responsible for blowing Rosenthal's car to smithereens that October night, theories abound.
According to Pileggi's book, also titled "Casino" and the source for much of the background information in this column, federal authorities have speculated that a Milwaukee mob boss known as the Mad Bomber was involved, blaming Rosenthal for their misfortunes.
Others point to outlaw bikers who'd befriended Rosenthal's troubled ex-wife, Geri. After splitting with Rosenthal and raiding their safe deposit boxes, she moved back home to Southern California and fell in with more lowlifes.
Supposedly the bikers thought Geri would collect Rosenthal's insurance money if he were dead. About a month after the blast, Geri, a former Tropicana showgirl and chip hustler in Las Vegas, was found in an apparent drug-and-alcohol stupor, her legs bruised, in the lobby of a motel on Sunset Boulevard. She died in a Los Angeles hospital three days later at age 46.
Others think the responsible person was Rosenthal's Illinois childhood friend Tony "The Ant" Spilotro, the brutal 5-foot-5-inch goon whom the Chicago Outfit had dispatched to Las Vegas to protect their interests.
In the movie "Casino," Joe Pesci plays the Spilotro character with eerie menace, as a crazed Mighty Mite who controls Las Vegas street rackets using a motor mouth and hot temper.
Those who subscribe to the Spilotro-as-bomber theory note that he and Geri Rosenthal (Sharon Stone in the movie) were involved in a sexual affair that caused passions to boil over. Rosenthal, Spilotro, and their wives were friends and had gone through some outrageous encounters together. In one famous episode, Geri Rosenthal, during a fight with her husband, emerged from their million-dollar home on a golf course in the gated Country Club Estates, holding a handgun. She was wrestled to the ground by Tony Spilotro's wife, Nancy. An iPhone video I shot of the house two years ago is on my YouTube channel.
Maybe the car bombing was one more ante-upping crazy confrontation further complicating the lives of these tragically entangled criminals.
But maybe not.
During the panel discussion at The Mob Museum, George Knapp, a respected veteran television reporter at the CBS affiliate in Las Vegas, said the one or two remaining Spilotro guys around town insist their faction didn't blow up the car, that Spilotro did not order it done, that it was somebody else who did it.
Who that "somebody" might be is unclear.
All these years later, the most infamous car bombing in Las Vegas history remains a mystery.
Larry Henry's YouTube channel includes videos he shot of mob sites in Las Vegas, the apartment building in Santa Monica, California, where Whitey Bulger was arrested, and the remote Arkansas airport where Barry Seal transported drugs into the U.S for the Medellin Cartel.
Subscribe HERE.
Comments or questions are welcome.