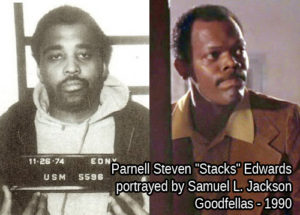 By Marla Eggar
Anyone familiar with the movie Goodfellas has heard of Parnell Edwards, also known as "Stacks". In Goodfellas, his character was played by Samuel L. Jackson and was described as someone who hung around the club playing music. What the movie over looked was despite the fact that "Stacks" was a struggling musician and songwriter he was also a onetime bodyguard to Muhammad Ali and close friend to Tommy DeSimone. Despite the movies depiction that "Stacks" only assisted in the Lufthansa Heist the reality is "Stacks" was considered an associate of the Vario Crew and worked not only with DeSimone, but Henry Hill as well. The Vario Crew was a group that operated under Paul Vario, a made man and capo, in the Lucchese family.
"Stacks" was known to be a heavy drug user. Indulging in marijuana, heroin and cocaine. Despite working the nightclub circuit as a means of support he also relied heavily on his crimes in credit card fraud and carjacking to pay the bills. Eventually his malfeasance would lead him to become involved in one of the biggest thefts in history, The Lufthansa Heist – the longest investigated crime in the United States to date. As the story goes, "Stacks" was supposed to take the van used in the robbery to a car compactor in New Jersey to have it destroyed. Instead, he smoked some Mary Jane while en route to the junkyard and somehow ended up at his girlfriend's apartment. Upon his arrival, he decides to park the "Scooby Doo Van" in a no-parking zone. He then spent the rest of the evening getting drunk and snorting Christina Aguilera, apparently, deciding to deliver the van to the junkyard the next day.
Unfortunately, the next morning, while "Stacks" was asleep in his girlfriend's apartment, the police discovered the van, impounded it, and quickly identified it as the vehicle used in the robbery. "Stacks" managed to flee without being apprehended. However, his fingerprints were later found on the steering wheel, and a muddy shoeprint found at the airport was matched to a pair of athletic shoes that Edwards ("Stacks") owned. Shortly after the robbery, "Stacks" went into hiding after learning that the police identified him through fingerprints left in the van. Early one morning, DeSimone and an acquaintance paid Mr. Edwards a visit. After entering the apartment DeSimone killed "Stacks" with a .32 silencer-equipped pistol. Despite their friendship, DeSimone knew that "Stacks" drug addiction, could easily lead to him becoming an informant. Parnell's ("Stacks") girlfriend found his body. DeSimone did call "Stacks" mother, to offer his condolences and Henry Hill visited with Edwards' grieving family, yet, DeSimone never attended the funeral.
Comments or questions are welcome.