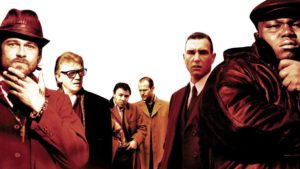 By Joe Liddle
We've talked about mob movies, but we haven't talked about some of the classic gangster movies the UK has to offer. Growing up in England, I think it's fair to say I've seen my fair share of British classics. Some of them I consider rare finds, some of them cult masterpieces.
I'll start with the 2000 classic Snatch, directed by Guy Ritchie, a man so adept at the British gangster genre that he's produced several great movies in the past decade or so. Snatch stars Hollywood big hit Brad Pitt and some of England's most iconic actors of our time, Jason Statham, Stephen Graham and Alan Ford. A lot of you mob fans will know Stephen Graham from HBO's Boardwalk Empire, where he played the infamous Al Capone. Other actors include Benicio Del Toro, Dennis Farina and Vinnie Jones, among other great names. As you can see, Snatch has a very attractive cast.
Big names don't necessarily make a great film, but I can honestly say that in this instance, Snatch will be worth every minute of your time. The movie focuses on several different storylines which all ultimately entwine as one, much like Quentin Tarantino's Pulp Fiction. The main focus of the film is an 86-carat diamond which somehow comes into contact with nearly every character throughout the flick. Without giving too much away, I'll leave you with a taster. Incompetent thieves, a Russian gangster, a bare-knuckle boxing champion and what Alan Ford's character describes himself as; a horrible c***.
My second recommendation is another Guy Ritchie classic, predating Snatch by two years. Lock Stock and Two Smoking Barrels, released in 1998, is Ritchie's first feature length gangster film, which is very similar to Snatch with its quirkiness, black comedy and Tarantinoesque plot. The movie stars Jason Flemyng, Dexter Fletcher, Nick Moran, Jason Statham and Vinnie Jones; as you can see, some of these actors were also in Snatch.
For my third recommendation, I'm going to take you back to 1980 with John Mackenzie's The Long Good Friday, starring veteran actor, Bob Hoskins. Unlike the Guy Ritchie movies, I mentioned above, The Long Good Friday takes on a much more serious vibe, telling the story of a London kingpin who is trying to convince the American mob to build a partnership with him, hoping to expand his criminal empire. Unfortunately, you can't build an empire without having rivals; this is exactly what the film is about.
Another movie I'd like to suggest is 2004's Layer Cake, directed by Matthew Vaughn. This, above all I've mentioned, is probably my favorite of the bunch. The story is slick, the characters are believable and the cast is exceptional. Layer Cake focuses on the drug trade in Britain, the movement of ecstasy and the problems that come with it. If you enjoy gangster movies that are full of intrigue, this is the one for you. I can't recommend it enough.
There are plenty more movies I'd like to mention, but the list never ends. Most of you will be familiar with 1971's Get Carter, directed by Mike Hodges. This is by far the most iconic Michael Caine movie of all time. Do not confuse this masterpiece with the awful remake going by the same name, Get Carter, made in 2000, starring Sylvester Stallone.
British gangster movies, much like their cousins in America, without a doubt have much to offer and have personally provided me with many hours of enjoyment. Like I said before, there are a lot more I haven't mentioned, including the countless other recommendations I have in my pocket and the upcoming TV show based on Guy Ritchie's Snatch, but we'll talk about that later.
Until next time; keep it gangster…
Comments or questions are welcome.