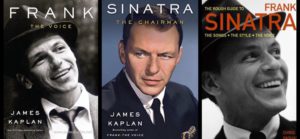 By Jerry Pearce
After each installment of "The Sinatra File" makes its rounds among our vast readership, it is consistently gratifying to receive messages from readers commenting on aspects of a writing piece and the revelation of facts that were previously unknown to them. To their compliment, I can only reply that, if certain men had not written such wonderful volumes on the subject of the Chairman of the Board, I would be as much in the dark as then. With that in mind, this edition of "The Sinatra File" is dedicated to the best books written about Frank Sinatra and the authors that created them. Five titles are covered here in three categories, each appealing to a certain legion of Sinatra fan.
For the Biographers
While there have been, many titles written featuring an overall biography on the life of our favorite entertainer, author James Kaplan saw fit to create a definitive text encompassing as much information on the life of Sinatra as he could find, and this arduous task took plenty of time, with two massive volumes documenting the life of the singer released five years apart in both 2010 and, on the occasion of the singer's centennial year in 2015. The first part, "Frank: The Voice," covers his birth in 1915 to his big Academy Award win in 1954 for Best Supporting Actor in the film "From Here To Eternity," and presents an elongated amalgam of his early life, including his years with Harry James and Tommy Dorsey, Columbia Records, the tumultuous first and second marriages to Nancy Barbato and Ava Gardner, his fall from grace and reascending the show business ladder. The second volume, "Sinatra: The Chairman," takes the reader on a journey through the glory years of Sinatra's career and life, from his hits at Capitol to the founding of Reprise Records to his early retirement in 1971. While a very small portion of the book is attributed to his years following his comeback in 1973 to his death in 1998, the reader will bask in the roller coaster ride that was Sinatra's life, warts and all, down to the very minute details. Overall, two masterful reads.
For the Music Lovers
What James Kaplan sought to do in terms of overall biography Will Friedwald had already achieved when it came to the sole subject of Sinatra's music. When he wrote his book "Sinatra! The Song Is You" in the mid-1990s, not only was Sinatra still alive, many of the principals who helped create his classic recordings were as well, and with interviews and technical information guiding the narrative, we get to learn just how the Chairman created so many wonderful recordings over the years, with large sections dedicated to single composers, including Axel Stordhal, Gordon Jenkins, Nelson Riddle, and Billy May, not to mention another section dedicated to arrangers and music personnel he worked with less frequently but had achieved notices with. For those whose love for Sinatra is limited to the performing arts, this book is a bible.
For those Sinatra music lovers who wanted to read up on his time behind the microphone but weren't up to the mammoth of Friedwald's volume, author Charles Granata penned his own book on the subject in the early 2000s, and while the book "Sessions with Sinatra" is a shorter volume then the former, it is no less rich with tidbits of information that a Sinatra fan will love. In fact, it was FIRST ever book I read about the singer, and I still consider it my favorite. Granata includes a wealth of information about the Columbia years, including a lot of great inside moments that happened during recording sessions, to the Capitol years, where he devotes a nice section to the "Close To You" album, one that Sinatra fans will delight in, to the Reprise years, with great anecdotes behind the making of the albums "Ring A Ding Ding!" and "Great Songs From Great Britain," right up to the "Duets" albums. I may be showing a bit of bias, but if the music appeals to you, start with this one.
For the Beginners
One thing is for sure. When we had a book report to do and the teacher knew we didn't want to read the book, she warned us from buying the Cliffs Notes from the bookstore because she'd be sure to ask questions on the test that weren't in the Cliffs (we bought those yellow Cliffs books anyway). Well, if you're someone new to the subject of Sinatra and you want a general idea of the goings on, the Cliffs Notes way may be your best bet. Author and music journalist Chris Ingham brings us just that in the Frank Sinatra edition of the "Rough Guides" series, a miniature but extensive volume that presents the basics of Sinatra's life and career, but also doesn't skimp on some detail. Sections are donated to his biography, complete discography and filmography, not to mention unique additions of stories behind fifty Sinatra performances as well as anedotes about his greatest songs. All in all, this one Is great for a stocking stuffer for your loved one who is getting into Sinatra's music. In essence, it's the blueprint for getting your Sinatra starting kit in motion.
Check them all out! They're all still in print and readily available from Amazon.com, your local Barnes and Noble, or hey, support small business and get them from your local Mom and Pop book shop!
Until next time, Sinatra lovers!
Jerry Pearce is an amateur singer in the vein of Frank Sinatra, Perry Como, and Dick Haymes and has released two discs of standards music, Crossroads in 2010, and One Summer Night in 2016. Samples of his music can be heard on his YouTube Channel. To purchase his CDs use the form box below.
Comments or questions are welcome.