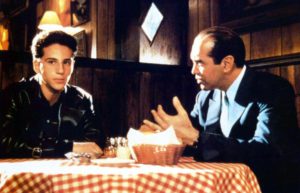 By Joe Liddle
This time around, I'm going to review the 1993 movie, A Bronx Tale, directed by Robert De Niro. The movie itself was De Niro's directorial debut, and has since become one of the most appreciated movies in the gangster/mob genre. Although the movie's backdrop is very much about the Italian-American mob in 1960s New York, the plot itself is a coming-of-age story, focusing on the life of Calogero, nicknamed "C", played by Lillo Brancato, and how his life was molded by his experiences growing up in an Italian neighborhood.
A Bronx Tale deals with a lot of important issues, and with it being set in 1960s America, these issues make a strong appearance. One of the main issues the movie deals with is race, and without a doubt, A Bronx Tale paints a very particular picture on segregation during that period. The movie is more or less solely set in Calogero's neighborhood, Fordham Avenue, a neighborhood consisting of mostly Italian heritage. One of the main arcs in the movie is that Calogero falls in love with a black girl named Jane, something which he keeps a secret from his outright racist friends.
The story comes from Chazz Palminteri's one-man show of the same name and is partially based on Palminteri's childhood. Chazz Palminteri also plays a major character in the 1993 adaption; the neighborhood mob boss Sonny, who becomes somewhat of a father figure to the young Calogero. Their relationship begins when Calogero witnesses Sonny commit a murder, and when called upon to identify the killer, doesn't reveal his childhood "hero", Sonny.
Overall, the relationship between Sonny and Calogero is the main driving force of the movie, showing you two very different lives. Sonny's father, Lorenzo, played by Robert De Niro, a working-class bus driver, despises Sonny for what he represents, and throughout the movie is disappointed and somewhat jealous about Sonny's influence over his son.
Throughout the film, we are introduced to many colorful characters, particularly in the dimly lit mob hangout, Chez Bippy, a place in which Calogero spent a lot of time as a child. Some of these characters have very memorable features. For example, we're introduced to "Jimmy Whispers", Sonny's right-hand man, and "Eddie Mush", a degenerate gambler known for his streak of bad luck. Other characters include "JoJo the Whale" and "Frankie Coffeecake", both of whom have their own distinguishing features. Memorable characters like these are what pack a punch and give A Bronx Tale its compelling flavor.
The characters and the plot aren't the only things that give A Bronx Tale its brilliance. The soundtrack is excellent by all means, capturing the time period perfectly. In the opening credits of the movie, we hear "Streets of the Bronx" by Cool Change, a song that ties in with the distinct New York doo-wop setting. When we're first introduced to the Chez Bippy, we see Calogero as a child, played by Francis Capra, sneaking into the bar to the sound of "Same Old Song and Dance" by Frank Sinatra, a song which fits the scene perfectly.
I'd love to delve into the climactic ending of this masterpiece, but so far, I've tried to keep this review fairly spoiler-free. I've mentioned key points and highlighted key issues, but if you haven't seen the movie and would like to give it a go, all I can say is, you will not be disappointed. A Bronx Tale for me is one of my personal favorites, a timeless classic that will never die.
5/5 Stars…
Comments or questions are welcome.