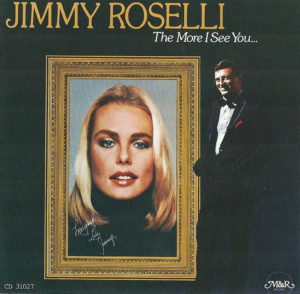 By Jerry Pearce
The urban legend goes as follows. While Frank Sinatra was ascending to the top of the entertainment industry, the way was paved for his mother Dolly to rise to the top of the local politics in her home state of New Jersey. Mrs. Sinatra was chairing a fundraiser to sponsor a special-needs benefit and she wanted nothing more than for the noted singer Jimmy Roselli, himself a well-known recording star at this point, to sing as the special attraction of this worthy benefit.
Word filtered to Roselli that Dolly wanted him to sing at this event. Roselli had gotten to know the Sinatra family well, both Frank Sinatra and Jimmy Roselli having been born in the same town of Hoboken ten years apart, having lived for sometime on the same city block.
When Roselli, possessor of a gifted voice but an odd Italian temperament, received word through mutual friends that Dolly wanted him for her show, Roselli responded by saying that he and Dolly were friends, and if she wanted him for the show, she would call on him herself. With the story filtering through various social circles, naturally, things soon became blown out of proportion. By the time the story reached Frank Sinatra himself, it had become Roselli refusing Sinatra's mother's request. For Sinatra, himself possessing a hair-trigger temperament, it was all he needed to hear. The show business hammer, for all its intents and purposes, was about to fall.
It's safe to say that Frank Sinatra didn't particularly care for Jimmy Roselli. It went all the way back to a day in which Sinatra invited a young Roselli over to his house to sing for him. Playing scales on the piano with Roselli responding vocally, baritone Sinatra was impressed, and some supposed threatened, by Roselli's impressive tenor, capable of more than one octave. Sinatra would distance himself from Roselli, and while both men would soon each climb the show business ladder, they would emerge into the spotlight carrying different attitudes, and unfortunately, different grudges.
Sinatra would leave Hoboken, becoming a big band singer, eventually leading to label vocalist and Hollywood stardom. Unlike Sinatra, Roselli wouldn't leave New Jersey for many years working his way through Hoboken, gaining the notice of the public, leading to trips across the river and eventually, garnering the attention of the Mafia, some figures of which were able to grant him the breaks that he needed. While the influence of the mob on Sinatra's career has always been shrouded in mystery, Roselli himself would readily admit that he accepted their help, and their boosts would signal his main ascent into musical hierarchy, with smash appearances at several New York nightclubs, as well as helping him score a recording contract with United Artists Records, which he recorded several records between 1965 and the early to mid 1970s.
However, Roselli would also be the first to admit that he had no fear in telling the mobsters who thought they owned him due to their helping hand to get lost, a fascinating factor of the odd temperament he possessed. Although the mobsters didn't hurt him in retaliation due to the fact that they considered him one of the finest vocalists (the quality of his voice and the emotions it triggered with certain underworld figures almost certainly kept him alive at times), they would lend a helping hand to rival Sinatra when the Chairman called in a favor, having himself remained on good terms, mindful of when they had helped him when his career was in dire straits.
Following the incident with Dolly, Roselli found himself unable to get bookings at many of the places he had broken attendance records with previously. His songs, several of which scored hit positions on the album charts, were taken out of jukeboxes in bars and restaurants.
At the same time, relations were souring between the singer and his label, United Artists, whom he felt were not promoting him enough to gain any further popularity. After a lengthy legal battle, he broke ties with UA Records, retaining the rights to all of the masters created there. He would re-release them under the guise of his own new label, M&R Records, and when it came to recording new material, he would take into account and value, the figures he would meet during trips across the pond.
With the public shunning him in the wake of the Sinatra debacle, Roselli began making more frequent overseas trips to fans in England, where he didn't suffer the same scrutiny, performing smash concerts to approving audiences. It was here that he would make one of his most interesting albums, a collection of evergreens featuring full orchestra, his third new release for M&R.
Although several of his previous albums were scored by Americans George Siravo and Ralph Burns, Roselli would enlist the noted Brit Peter Moore, famous for his work with, among others, Fred Astaire, Bing Crosby, Connie Francis, and Frankie Laine, to arrange and conduct the recording sessions. Utilizing some of the most modern arrangements Roselli would put his voice to, resplendent with the then-current sounds of synthesizer, electric guitar, as well as harmonica, the album "The More I See You" was released in 1978.
Complete with a cover of a tuxedo-clad Roselli standing next to a large facial portrait of noted model and friend Margaux Hemingway (with the tattooed autograph "Margaux Loves Jimmy"), the album is a nice, swingin' treat. Roselli's recording of "Day by Day," perhaps the first since Sinatra's recording for Capitol in 1961, helps set the rhythmic yet lusty mood with some jazzy piano followed by a swirling saxophone section, bursting to life with splashes of brass, with Roselli breaking tradition by humming some nearly off-mic "la-da-di-das" over the bridge.
The same type of treatment is given to tunes like "Let There Be Love," "You'd Be So Nice To Come Home To," "All That Love Went To Waste," and "Night and Day," the Cole Porter opus subjected to some of the funkiest notes of the record, with electric guitar on display, transporting the old standard nearly into a disco jaunt.
Supreme moments follow on the ballads, Moore supplying beautiful strings on the songs "I Fall In Love Too Easily," "You Stepped Out Of A Dream," "Say It Isn't So," as well as the title tune, which closes the record.
Roselli would record a further number of records in England over the remainder of his career, most with Moore supplying the arrangements. Many critics agree that "The More I See You" was a noble but singular attempt to break in mainstream audiences of the time with Roselli's voice by using a more modern sound of instrumentation. Indeed, Moore would never again in his work for the singer approach the funkiness he achieves on this album.
In the case of the singer, the "ban" against him wouldn't be long-lasting. By the dawn of the 1990s, along with sold out performances at the London Palladium, Roselli had become hot property in Atlantic City, in particular, Trump Plaza, where legions of fans would flock to see the singer, and make him, literally, millions of dollars as a performer.
Although the singer would never reconcile with Sinatra, upon Sinatra's death in 1998, Roselli sang "My Way" in concert that evening in tribute to the deceased legend. Many affirm, after hearing of Roselli's ups and downs in the pursuit of a career, that the lyrics of the song are more attributed to Roselli rather than Sinatra. He followed his old Hoboken neighbor in death some twelve years later, passing in June 2011. His recorded discography, numbering to some thirty albums, would survive into the compact disc era via release through M&R, many of which are still available today.
In addition, for a more comprehensive look at the singer, I recommend checking out his story, "Making The Wiseguys Weep," a book written by author David Evanier. Written in cooperation with the singer himself, it's a fascinating look at what made a fiery Italian tick. It is available through most secondhand outlets today.
If you haven't heard the name Jimmy Roselli before, start checking out his albums, beginning with "The More I See You." 4/5.
Until next time, music lovers!
Jerry Pearce is an amateur singer in the vein of Frank Sinatra, Perry Como, and Dick Haymes and has released two discs of standards music, Crossroads in 2010, and One Summer Night in 2016. Samples of his music can be heard on his YouTube Channel. To purchase his CDs use the form box below.
Comments or questions are welcome.